EGYPT TOURS FROM AUSTRALIA 2023
Whether you are looking for the perfect Egypt tours from Australia, or whether you simply want to find out more about travel to Egypt from Australia, we can help.
Continue reading to find out all there is to know about traveling to the Land of the Pharaohs, or click on the button below and start designing your own tailor-made Egypt tour today in three easy steps.
THE BEST OF EGYPT YOUR WAY
Build your own tour or select one of our private Egypt tours from Australia.
Private guide & driver
Personal expert tour guide and air-conditioned modern vehicle with chaffeur.
We speak your language
Our online tour consultants and expert tour guides are fluent in English.
expert guided Egypt tours from Australia
– for travelers who want the Egypt holiday package of their dreams
lifetime Memories Guaranteed
– travel to Egypt from Australia safely and securely with your own guide and driver and see all the best sites
200,000 dream vacations
We are proud to have provided half a million people with the tour of their life.
Traveler's Choice 2020 & 2021
Awarded TripAdvisor's Traveler's Choice in both 2020 and 2021. So expect always the best!
We are always at your service
We are ready to answer your questions and help with travel arrangements 24/7. 
The Egypt holiday package of your dreams
– travel in safety and comfort
Most people have a trip to Egypt on their bucket list. Still, they are worried about travelling to a country with a foreign culture and a language they cannot understand.
At Egypt and Jordan Tours by Egypt Tours Plus, you get your very own guide, who speaks a language you know and a personal driver who drives you around in a modern, comfortable vehicle from the moment you arrive until the moment you leave.
This way, you get the Egypt tour you always dreamt of and create memories for life.
Click the button below and create the perfect dream tour of Egypt, and make memories for life of all the exciting places you heard about in school and have seen on movies and TV.
Egypt Holidays from Australia
The Ultimate Guide for Traveling to Egypt from Australia
All the Information in One Place
From its timeless pyramids, temples and tombs, to its pristine beaches and world renowned dive sites, Egypt is a fantastic holiday destination for anyone and everyone.
Whether you visit on your own, or whether you visit with friends or family, a vacation in Egypt will leave you with memories that last a lifetime.
Let's take a closer look at booking Egypt tours from Australia: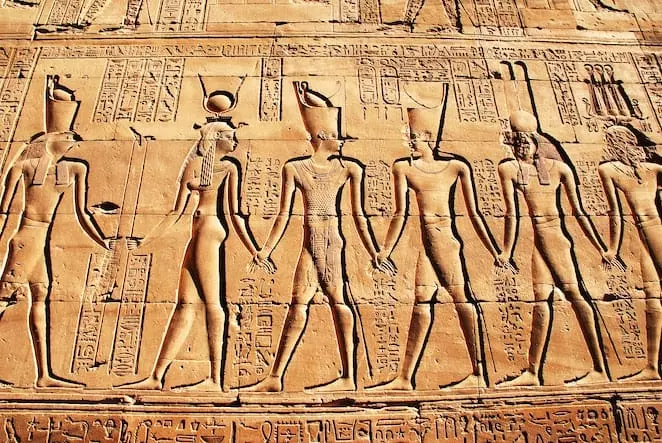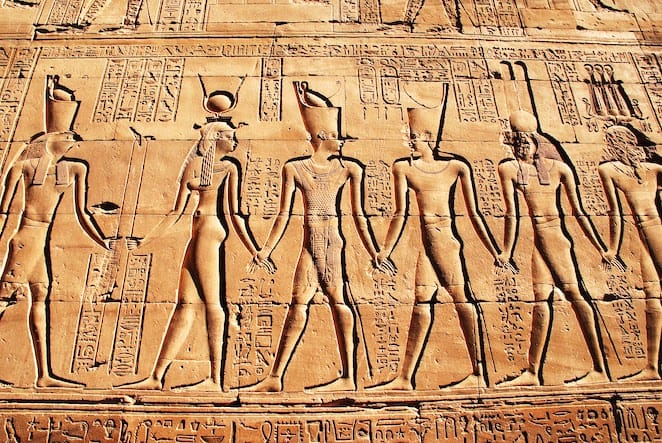 Egypt Passport and Entry Visa Requirements
Everyone needs a valid passport and a visa in order to enter Egypt. Fortunately, for Australians, obtaining a tourist visa for Egypt couldn't be any easier than it is.
For Australian passport holders, there are three ways you can obtain your Egypt tourist visa:
Apply for a visa at your nearest Egyptian embassy or consular office.
Obtain a visa-on-arrival at Cairo International Airport or any other international airport in Egypt.
Apply for your visa online via the official

Egypt e-Visa Portal

.
The vast majority of people who book Egypt tours from Australia choose to get a visa-on-arrival when they land in Egypt. However, the e-Visa option will almost certainly become a more popular option as more people become aware of it.
In order to apply for an e-Visa, you first need to set up an account on the official Egypt e-Visa portal. Once you have created your account, choose which visa you want and then simply follow the instructions which are very straight forward.
Once you submit your application and you have paid the visa fee via your credit card or debit card, your application will be processed. Once it has been approved you will be able to log into your account where you visa will now be available for downloading and printing. When you arrive in Egypt, simply hand your printed visa to one of the immigration officials who will then stamp your passport.
Under certain circumstances, your chosen tour operator may be able to obtain your entry visa for you. For example, we provide this service with some of our luxury Egypt tours from Australia.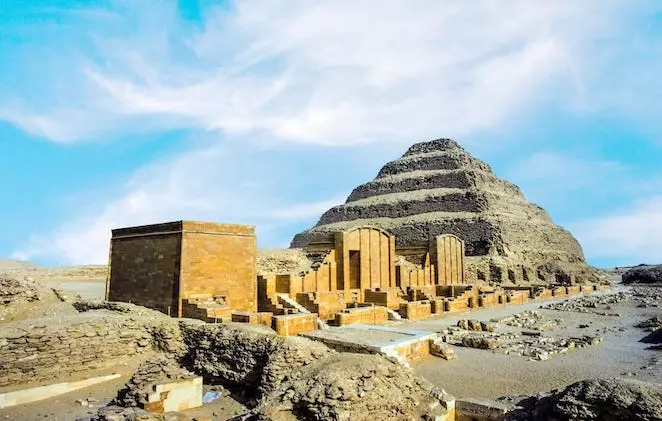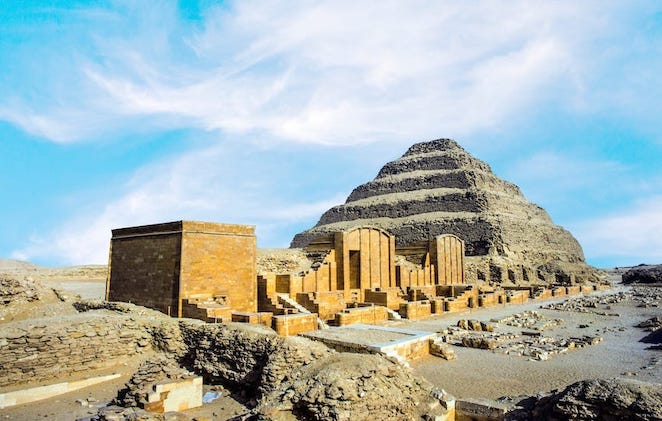 Egypt Holidays from Australia and Covid-19 Restrictions
At the time of writing, fully vaccinated Australians faced no Covid-19 travel restrictions in Egypt, providing their most recent vaccine was received more than 14 days prior to arriving in the country.
Egypt recognizes the following vaccines:
AstraZeneca (Vaxzevria)
Janssen
Moderna (Spikevax)
Pfizer-BioNTech (Comirnaty)
Sinopharm
Sinovac
Sputnik V
Unvaccinated Australians were required to show proof of a negative Covid-19 test, and the test must have been done within 72 hours of arriving in the country.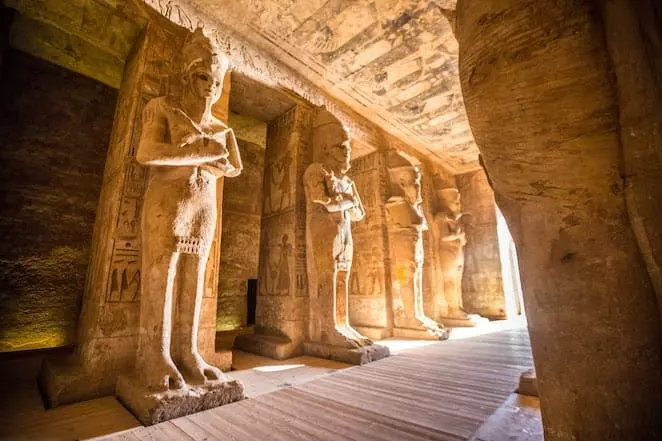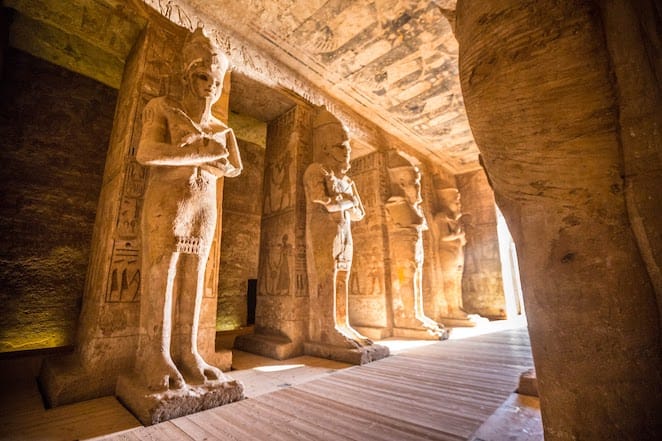 Vaccines to travel to Egypt from Australia
You can enjoy Egypt tours from Australia without getting any particular vaccines, although there are some which are recommended. These are:
Hepatitis A – Hepatitis A is spread by eating contaminated food and/or drinking contaminated water in Egypt.
Typhoid – Typhoid can also be caught through contaminated food or water. A Typhoid vaccine is especially recommended if you plan on visiting rural parts of the country, or if you are going to be staying with friends or family in Egypt.
Rabies – Rabies is present in Egypt, so getting vaccinated against this disease is recommended but not essential, especially if you are only going to be visiting the country's major cities.
Best Time to Visit Egypt
The best time to travel to Egypt from Australia really depends on your personal travel style and your budget. December and January represent the peak of the high season which runs from October to April. These are the best months in terms of the weather. However, everything costs more, including hotel accommodation, Nile River cruises, and of course, Egypt tour packages.
Visiting Egypt during the low season, which runs from May to September, costs less, but it can be very warm, and especially during June, July and August. If you are accustomed to very warm weather, as many Australians are, there is no reason why you can't enjoy Egypt tours from Australia during Egypt's low season. You will also encounter less tourists than you would if you were to visit, let's say, in December or January.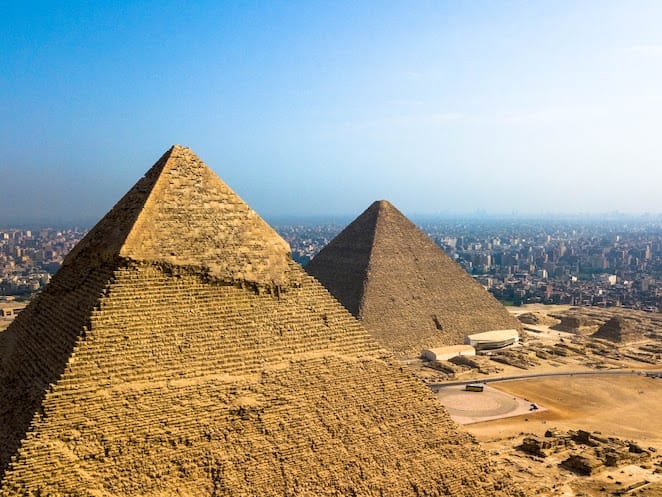 Why Visit Egypt
Egypt is famous for its towering Pyramids of Giza, its many rock-hewn ancient tombs, and its many ancient temples, but there is so much more to Egypt than only ancient relics. Not many people are going to book Egypt holiday packages from Australia only to see the Pyramids of Giza and the Sphinx on the outskirts of Cairo, Egypt's vibrant capital city.
Our most popular Egypt holiday packages from Australia are our Cairo and Nile cruise packages, some of which also include a few days on the Red Sea coast at places like Sharm el Sheikh and/or Hurghada.
A lot of people also visit Egypt to experience its rich culture and its cuisine, while at the same time visiting its legendary ancient treasures that have been left behind by one of the most advanced ancient civilizations.
Lots of people also book Egypt tour from Australia so that they can experience the magic of a 5-Star sightseeing cruise on the River Nile between Aswan and Luxor, or perhaps a 5-Star cruise on Lake Nasser.
Egypt's Red Sea coastline is another reason why some people book Egypt holidays from Australia. Egypt has some truly stunning beaches with crystal clear water. Egypt's Red Sea coastline is also home to literally hundreds of coral reefs that are in turn home to a vast variety of marine species.
Some of the world's finest dive sites are located along Egypt's Red Sea coastline, attracting countless SCUBA diving enthusiasts from all around the world. Not surprisingly, there is no shortage of dive shops and dive schools in places like Hurghada and Sharm El Sheikh. If SCUBA diving or snorkeling is your thing, you really need to add Egypt's Red Sea coast to your bucket list.
A lot of people also book Egypt tours from Australia simply because they want an affordable and wonderfully relaxing vacation near the beach at one of Egypt's delightful resort towns. It really takes a lot to beat a professionally crafted Nile cruise & Hurghada holiday or a Nile cruise and Sharm El Sheikh Holiday.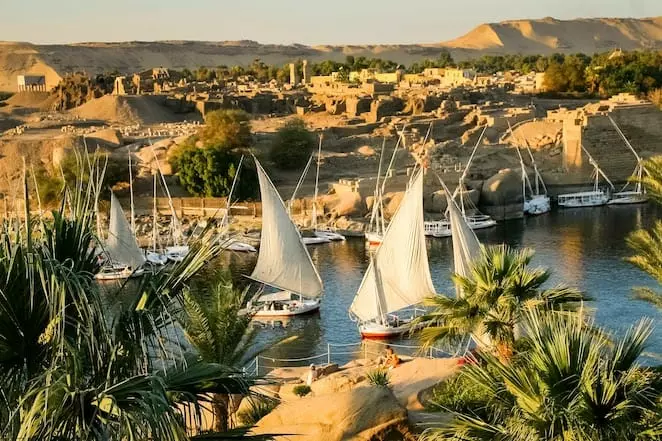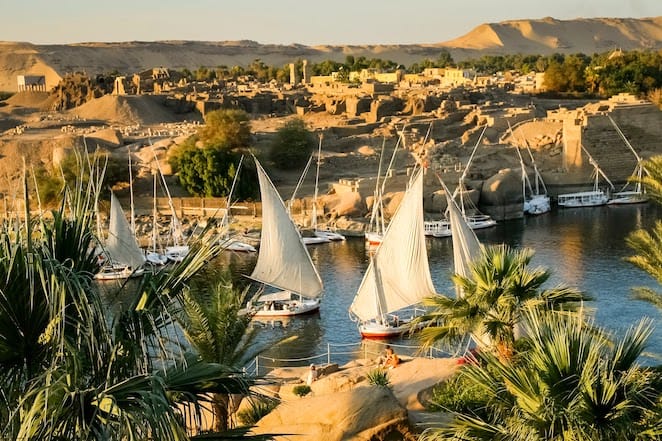 Why Travel to Egypt with Us
Why visit Egypt with Egypt and Jordan Tours by Egypt Tours Plus? Because, when you travel with us, you get so much more than just a vacation in the Land of the Pharaohs. You get to enjoy an unforgettable and totally flawless travel experience with lifelong memories guaranteed.
When you book your Egypt vacation through us, you are booking your trip through a travel company that has already sold more than 500,000 tours. That's more than half a million dreams brought to life for traveler from all over the world.
All of our Egypt tours from Australia are premium quality tours that include excellent 4 or 5-star-accommodation, professional expert guides and deluxe air-conditioned vehicles and private drivers.
Our tours save you time, money and hassle, and they guarantee that you visit only the very best sites that Egypt has to offer. You will also be traveling with a company that has been awarded the TripAdvisor 2020/2021″Travelers' Choice" award. 
Last but not least, every one of our Egypt tours from Australia can be customized to meet your own individual needs exactly, or we can help you to craft your own unique travel itinerary from scratch. 
Check out our spectacular range of Egypt tours or our Egypt & Jordan tours, or even book your dream trip right now.

Design Your Custom Tour
Explore Egypt (and may we suggest Jordan) your way by selecting only the attractions you want to visit
Helpful Tips for Traveling to Egypt
While Egypt is a very tourist-friendly country to visit and explore, a little bit of insight can go a long way in helping you to avoid unnecessary problems.
Let's take a look at a few things which can make travel to Egypt from Australia that much more hassle-free:
Quenching your Thirst
Egypt is a warm/hot country, where people, including tourists, drink plenty of water. No matter how thirsty you are, never drink tap water. Stick to bottled water only. Bottled water is cheap and plentiful in Egypt.
Likewise, it's best to only buy and consume beverages that come in sealed containers. This is not to say you can't enjoy a cup of tea or coffee, or a glass of juice with ice, but if you do, buy from places that are serving a lot of locals.
Dining and Avoiding Mummy Tummy
As the saying goes: when in Rome, do as the Romans do. Well, when in Egypt, do as the Egyptians do, at least when it comes to eating street food or dining at small roadside restaurants. Many visitors end up with an upset stomach (mummy tummy) soon after they arrive in Cairo.
It would be a shame to visit Egypt and never try traditional food and snacks sold in the country's bazaars, but one should exercise a bit of caution. Instead of avoiding street vendors and small restaurants altogether, simply buy what you want from vendors and/or restaurant that are serving lots of locals.
Tipping - Not Mandatory, but Always Appreciated
In larger restaurants, a service fee is automatically added to your bill. However, this money goes to the restaurant owner rather than to the waiters or waitresses, many of whom earn very low wages. Tipping them with a few Egyptian pounds for good service can really make a big difference.
Many waiters and waitresses are forced to rely on tips to supplement their salaries. The same applies to some service staff at hotels and resorts.
Politics and Religion
Politics and religion are both sensitive topics in Egypt, and we strongly recommend against getting drawn into debates concerning either or both.
Under no circumstances should you insult Islam, or any other religion for that matter.
Most Egyptians are notoriously friendly and tolerant, but when it comes to politics and/or religion, it is all too easy for foreigners to cross the line.
Swimming in the Nile River
While none of our own Egypt tours from Australia include opportunities to swim in the Nile River, some Felucca cruise operators actually encourage swimming in the Nile in areas that are supposedly safe for swimming.
Crocodiles are not the problem. Instead, it is Schistosomiasis that is the concern. This is a disease which is carried by a parasite that is present in many bodies of fresh water in Africa.
A lot of people do enjoy a dip in the Nile between Aswan and Luxor, but regardless of what tour operators might tell you, there is a risk of contracting Schistosomiasis.
If you have, or if you intend to book one of our Egypt tours from Australia, every hotel you stay in will have a swimming pool. Nearly all Nile cruise ships also have a swimming pool, so there is no need to risk a swim in the Nile River.
Don't Let Sunburn Destroy your Holiday Experience
Whatever you do, don't underestimate the power of the Egyptian sun. Yes, many Australians are accustomed to plenty of sun, but still, many underestimate the risk of serious sunburn in Egypt, especially during the warmer summer months.
Most of Egypt's archaeological sites, such as the Giza Pyramids, provide very little in the way of shade. We highly recommend packing in some good quality sunscreen lotion, a wide-brimmed hat, and a good pair of sunglasses.
Save Money with Small Group Tours to Egypt from Australia
Small group tours to Egypt from Australia provide travelers with an excellent opportunity to save some money, and still get to see the wonders of Ancient Egypt. Group tours cost less than private tours because tour operators can make group reservations at hotels and on the Nile River cruises. As a group, the cost of expert guides is shared, as is the cost of transport. These savings can then be passed on to clients.
Our Egypt small group tours are limited to a maximum of 12 or 25 persons. Group tours are a great option for people on a tight budget and/or people who just prefer traveling in a group.
Luxury Egypt Tours from Australia
If you have a bit of cash to spare and you want your trip through Ancient Egypt to be even more memorable than ever, consider booking a luxury tour.
Luxury tours will typically include outstanding hotel accommodation, one of the best Nile cruise packages, private expert guides and personal drivers, and sometimes even your entry visa for Egypt. Providing you book through a reputable tour operator, your trip to Egypt should be totally flawless in every aspect.
10 Must-See Places to Visit
10 archaeological treasures which every Australian visitor should try to see while they are in Egypt
1. Giza Pyramids & Sphinx, Cairo
The view of three pyramids and a giant Sphinx in the distance is one of the most iconic sights in the world. The Giza Pyramids are Egypt's most visited attraction. They are far from being the oldest, but they are certainly the most famous pyramids in Egypt. Other ancient civilizations also built pyramids, but it is the Giza Pyramids that captivated the imagination of the world.
While it is now illegal to climb any of the pyramids, it is possible to go inside the pyramids providing you purchase the necessary tickets which are available at the site.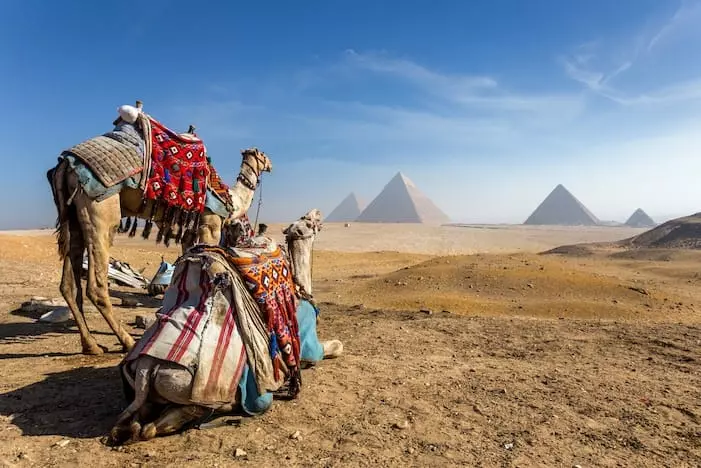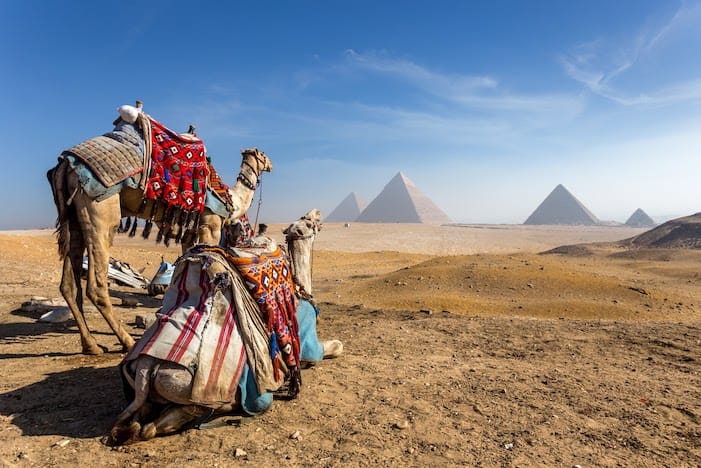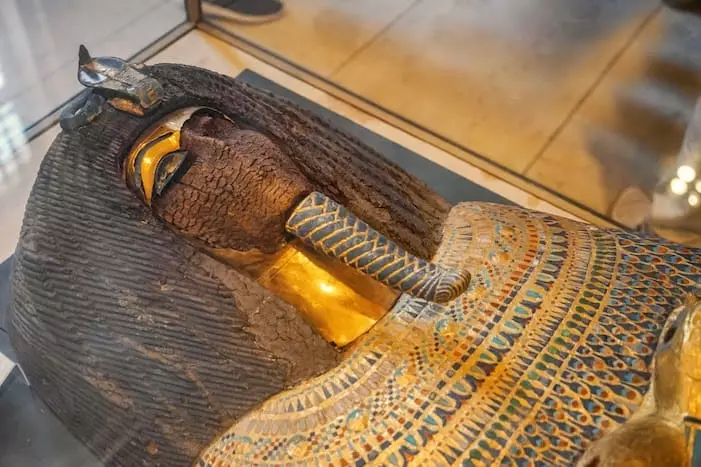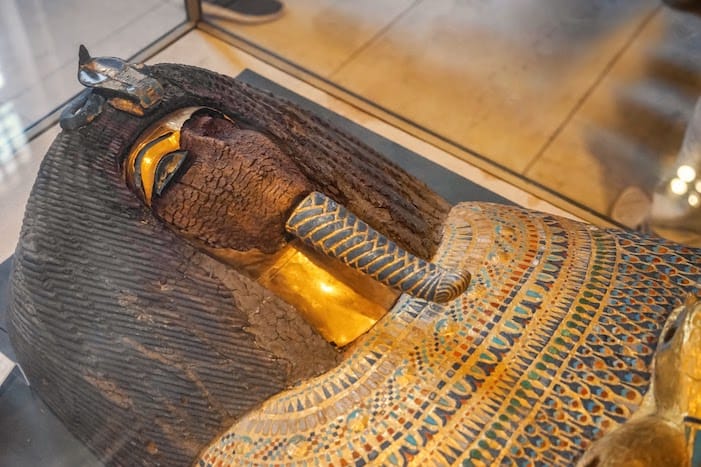 2. Museum of Egyptian Antiquities, Cairo
Located in the heart of Cairo, Egypt's bustling capital city, the Egyptian Museum showcases more than 5,000 years of fascinating history. With more than 100,000 artifacts on display, a visit to this world famous museum is a definite must for anyone and everyone who visits Cairo. Expect to spend at least an hour or two at the museum
While many of the museum's original artifacts have recently been relocated to the new Grand Egyptian Museum at Giza, there is still so much to see at the museum, including many artifacts which are now on display for the very first time.
3. Abu Simbel Temples, Abu Simbel
Located near the modern-day city of Abu Simbel, are two enormous rock-hewn temples that were commissioned by Pharaoh Ramses II. One was constructed for him and one for his beloved wife, Queen Nefertari. These two breathtaking temples are Egypt's second-most instantly recognizable site. The temples were built in honor of multiple gods, and in honor of Ramses himself who believed he too would become a god in the afterlife.
Unfortunately, the drive from Aswan to Abu Simbel takes approximately 3.5 to 4 hours in each direction. However, if you don't mind the drive, we cannot recommend the Abu Simbel Temples highly enough.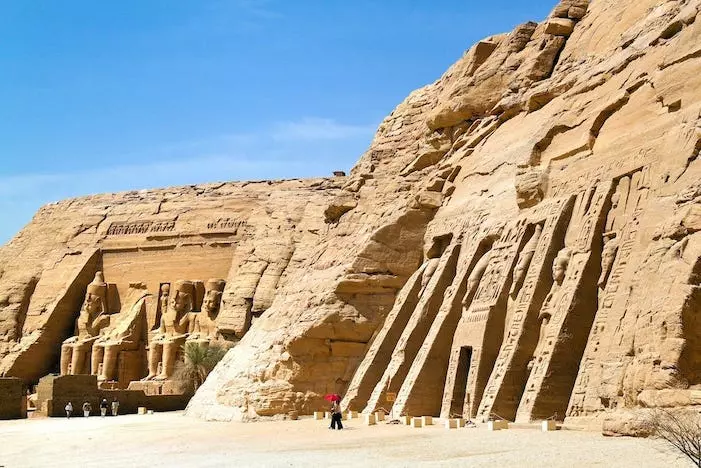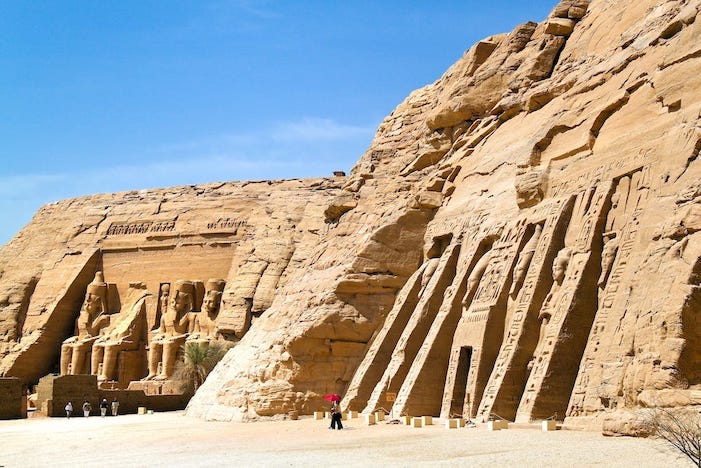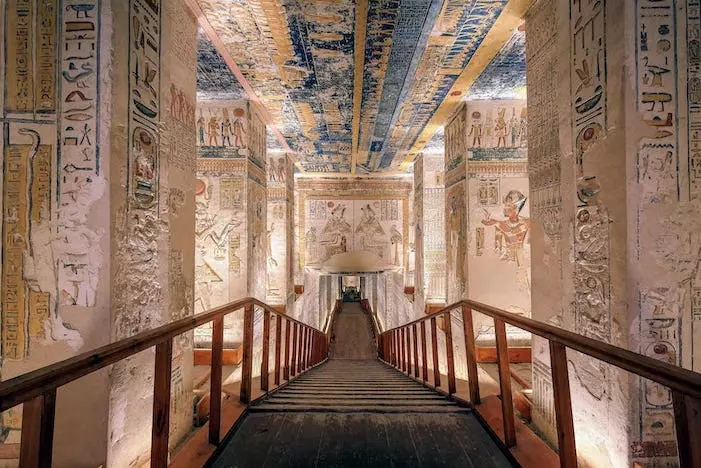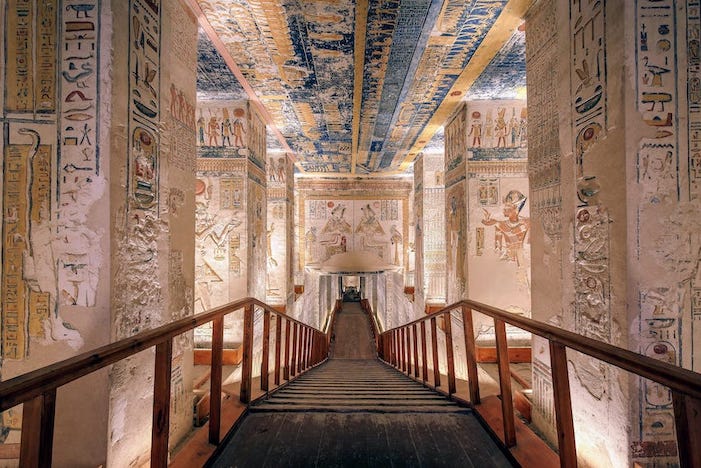 4. Valley of the Kings, Luxor
The Valley of Kings is an ancient royal necropolis located near the modern day city of Luxor in Upper Egypt. The site is home to more than 60 ancient tombs, including the tomb of Pharaoh Ramses VI and the tomb of King Tutankhamun. Several of the tombs are open to visitors, but for some of them, visitors are required to purchase tickets in person at the site.
At the time of writing, tour operators were not allowed to purchase these "special" tickets ahead of time on behalf of their clients. Visitors hoping to see inside Tutankhamun's tomb should get to the site as early as possible, especially during the high season when there are lots of tourists about.
5. Karnak Temple Complex, Luxor
Karnak Temple is located in the ancient city of Thebes on the east bank of the Nile River near modern day Luxor. Luxor is one of the best Egyptian cities in terms of ancient attractions. Karnak is a sprawling complex which grew over a period of more than 2,000 years. Best described as being an ancient city of temples, it is the second-most visited ancient site in Egypt.
While mostly only ruins remain, there is still so much to see at this site. You will see Karnak Temple featured in almost all of our Egypt Tours from Australia that include a Nile River cruise. It really is one of the most famous sights in Egypt.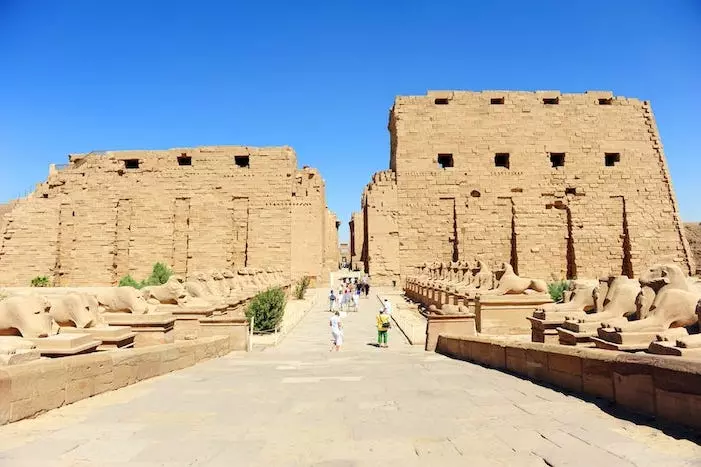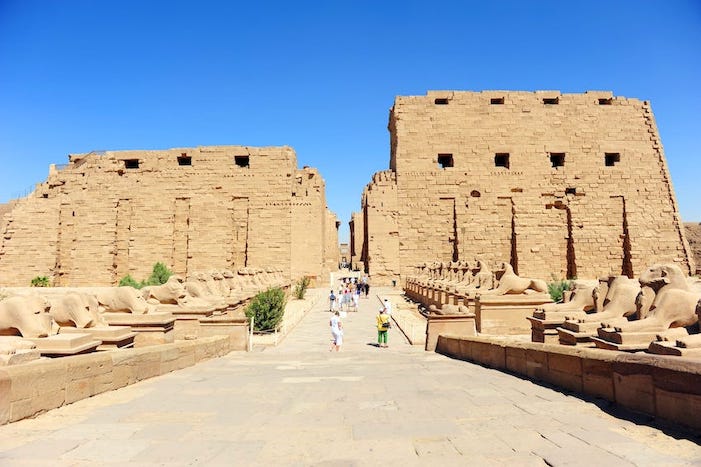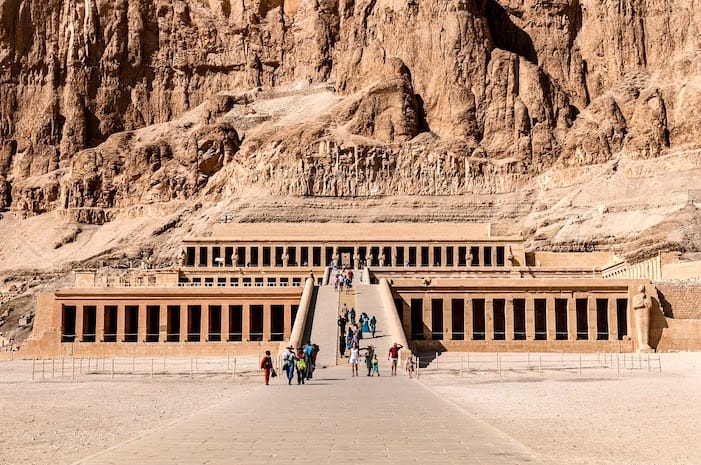 6. Hatshepsut Temple, Luxor
Also located on the west bank of the Nile River at Thebes, the mortuary temple of Queen Hatshepsut is featured in nearly all Nile River cruise itineraries. It is also featured in most Luxor tour packages and in most of our own Egypt tours from Australia. This huge terraced temple was commissioned by Queen Hatshepsut, Ancient Egypt's only true Egyptian female ruler.
Hatshepsut's mortuary temple is believed to be one of the most majestic temples ever built by the Ancient Egyptians. As with the other sites already mentioned, Hatshepsut Temple is a UNESCO World Heritage Site, and is considered one of Egypt's "Incomparable Ancient Egyptian Monuments."
7. Luxor Temple, Luxor
Also located on the east bank of the Nile River, just a stone throw away from Karnak Temple, Luxor Temple is absolutely breathtaking. In fact, Luxor Temple is considered to be one of the world's most breathtaking open-air museums. These days, visitors can walk from Karnak Temple to Luxor Temple via the recently re-opened Avenue of the Sphinxes.
While most of our Egypt tours from Australia include a guided tour to Luxor Temple, we also highly recommend visiting the site in the evening for a spectacular professionally narrated Sound and Lights Show, during which guests learn all about the temple's ancient history.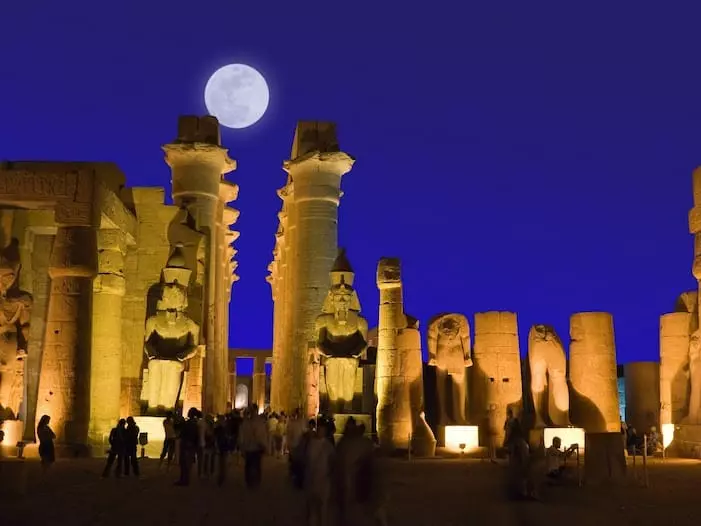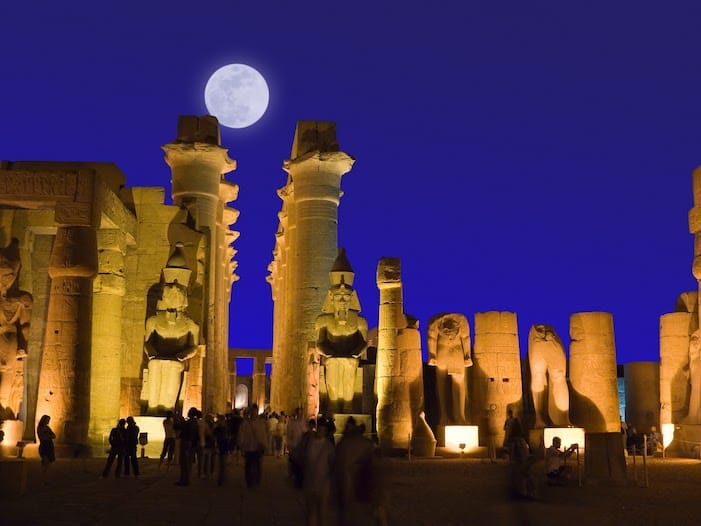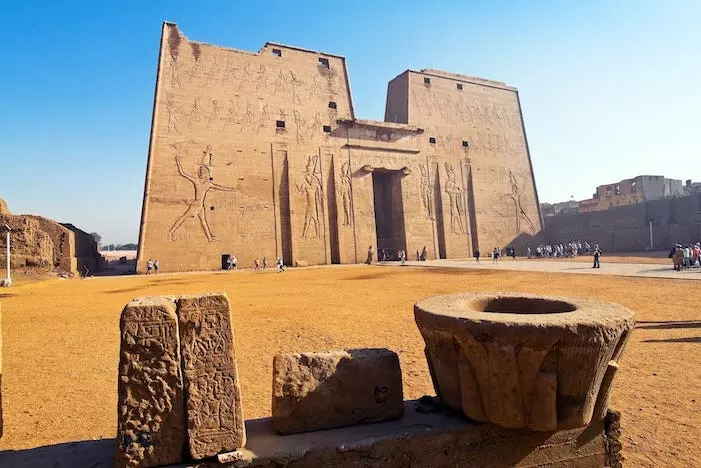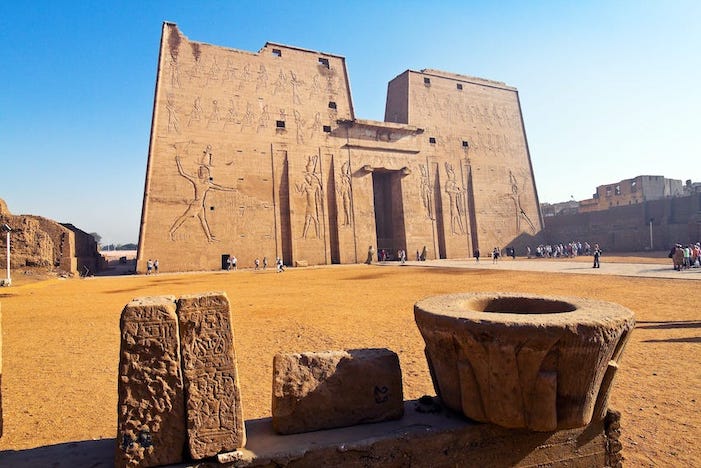 8. Temple of Horus, Edfu
Also known as Edfu Temple, this is Egypt's most well-preserved ancient cult temple. After the Egyptians, the Romans seized the temple but eventually abandoned it. As the years passed, the entire temple became buried beneath the desert sands. Not surprisingly, you will find Edfu Temple featured in nearly all good Nile cruise itineraries.
Edfu itself is a charming town. If you visit Edfu during a Nile cruise, you may also be able to visit the temple by way of a horse-drawn carriage that will take through the old town on your way to the temple with its two gigantic statues of Horus.
9. Kom Ombo Temple, Kom Ombo
Kom Ombo Temple is located near the modern-day town of the same name. It is one of Egypt's most unique ancient temples because it is essentially two temples in one. One is like a mirror image of the other. The complex was dedicated to two different gods: Sobek the crocodile god and Horus the falcon headed god.
Because the Egyptians did not want to cause offense to either of the gods, both halves of the temple were made identical. Kom Ombo Temple is also featured in nearly all good Nile cruise itineraries.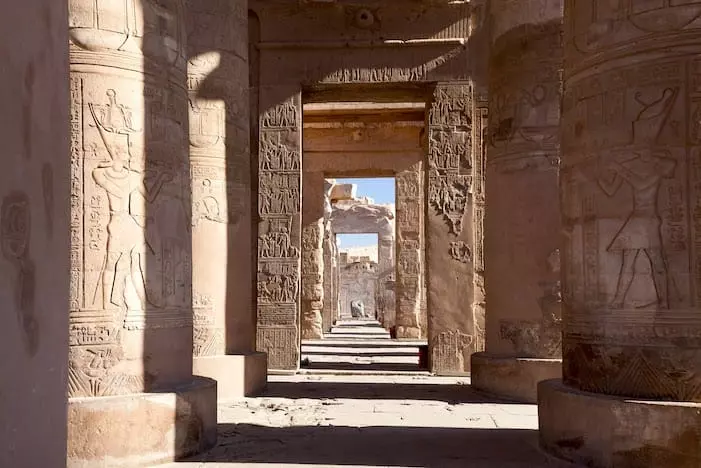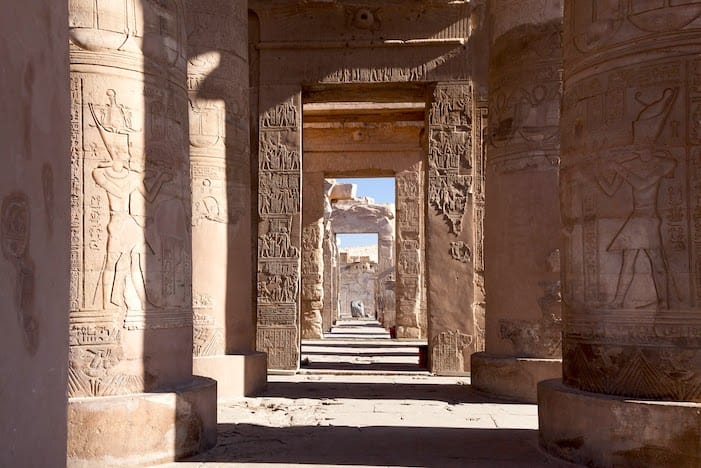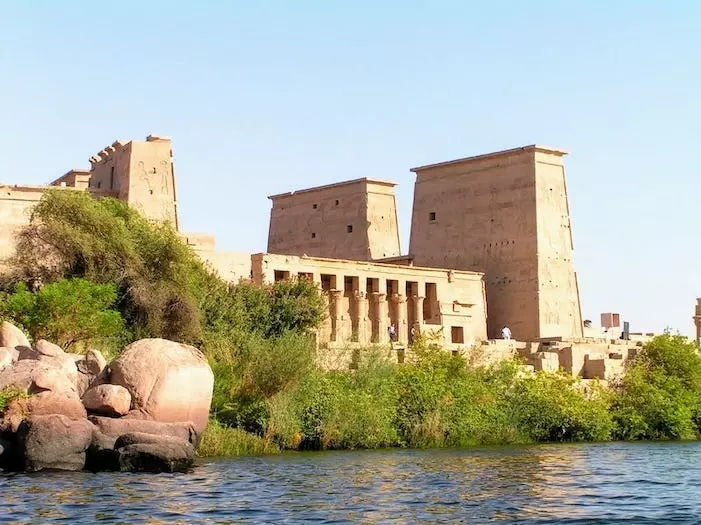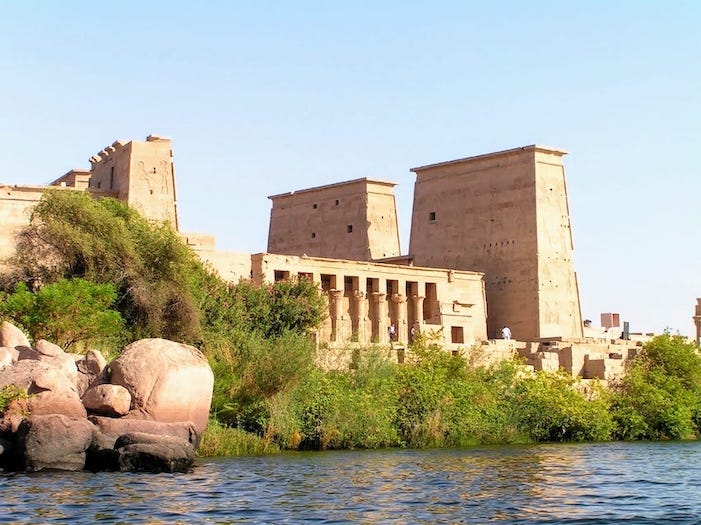 10. Philae Temple, Aswan
Philae Temple is located near to the modern-day city of Aswan. The temple is remarkably well-preserved. It is also believed to be the last true Egyptian cult temple built by the ancient Egyptians. The entire complex was relocated in entirety to its current location in order to save it from the flooding of Lake Nasser when the Aswan High Dam was built.
Philae Temple was dedicated to two goddesses, Hathor and Isis, and was originally located on a small and extremely sacred island in the Nile River. This is another ancient monument that features in many of our Egypt tours from Australia.
FAQ: Travel to Egypt from Australia
Is it safe to travel to Egypt right now?
Yes, Egypt is by and large a safe destination for tourists. However, visitors are advised to stay clear of the Libyan border area, the Western Desert, and the north Sinai region.
Are the pyramids in Egypt safe to visit?
Yes, the ancient Pyramids of Giza and the Sphinx are very safe to visit. There is plenty of security to ensure the safety of tourists, and there are even guards patrolling the site at night.
What should I avoid in Egypt?
Avoid being confrontational with locals when shopping or browsing in local markets. It is also best to avoid getting involved in political and/or religious debates. 
Do I need a Covid test to enter Egypt?
Unvaccinated travelers need to show proof of a negative test result. The test must be done no more than 72 hours prior to your arrival in Egypt. This does not apply to fully vaccinated travelers.
For latest info please ask your tour consultant.
Do you need a visa to visit Egypt?
Yes, Australia passport holders need a visa in order to enter Egypt. Visas can be obtained on arrival at Cairo International Airport or they can be applied for online via the Egypt e-Visa portal.
How to get a visa for Egypt from Australia?
Visit your nearest Egyptian Embassy or consular office, or get a visa-on-arrival (VOA) at any international airport in Egypt. Australians are also able to apply for an Egypt e-Visa online.
How much does it cost to visit Egypt?
The cost of a trip to Egypt depends on many things, including your travel style and your budget. You should be able to get a high quality Egypt package holiday for as little as AU$ 1,600.
Is Egypt expensive to visit?
No, Egypt is not an expensive country to visit. The cost of living in Egypt is considerably lower than it is in Australia. This is one of the reasons why Egypt is so popular among backpackers.
Which is the best month to visit Egypt?
December and January are considered the best months for visiting Egypt because this is the coolest time of the year. However, it is at the peak of the high season when everything costs more.
Best time to visit Egypt and Jordan?
December and January are generally seen as being the best time to visit Egypt and Jordan due to the mild weather. However, any time between October and April is also a good time to visit.
Why do people visit Egypt?
People visit Egypt for various reasons, including sightseeing and SCUBA diving. However, most people who visit Egypt do so because they want to see the country's many ancient attractions.
What are the must visit places in Egypt?
The most visited places in Egypt are Cairo, Luxor, Aswan, Sharm El Sheikh, Hurghada, and Alexandria. Egypt's most visited ancient monuments are all located in Cairo and Luxor.
Is Alexandria Egypt worth visiting?
Alexandria can't compete with Cairo and Luxor in terms of sightseeing, but many people believe Alexandria to be one of the best Egyptian cities that has somehow retained its original charm.
How many days do you need in Egypt?
The number of days needed for Egypt will depend on what all you want to see and do. Considering the distance from Australia to Egypt, we would recommend spend no less than 10 days in the country.
What do tourists wear in Egypt?
Most tourists opt for light loose fitting clothes, with many also preferring long pants or dresses and long-sleeve tops. T-shirts and shorts are more popular in resort towns like Sharm El Sheikh.
Do they speak English in Egypt?
In the larger cities, many Egyptians know at least some English, and in very touristy areas, a lot of locals can speak some basic English. However, most Egyptians don't speak English.
How far is Egypt from Australia?
The distance between Australia and Egypt is approximately 12,440 kilometers, a journey which would take just over 16 hours, assuming you had booked a direct flight.
If you have any questions which have not been addressed here, please visit our general FAQ or contact us and we will be happy to help.

Plan Your Egypt Holiday
Our tour consultants are on call 24/7 to offer assistance and to answer any questions you may have about visiting Egypt.