Jordan Top Attractions – Top 10 Sights You Must Visit in Jordan
Welcome to the top attractions in Jordan, a truly wonderful destination for travelers of all ages. There is so much more to Jordan than what many people imagine. To begin with, Jordan is home to the Lost City of Petra. This alone makes the country well worth a visit, but there are also many other reasons to visit Jordan.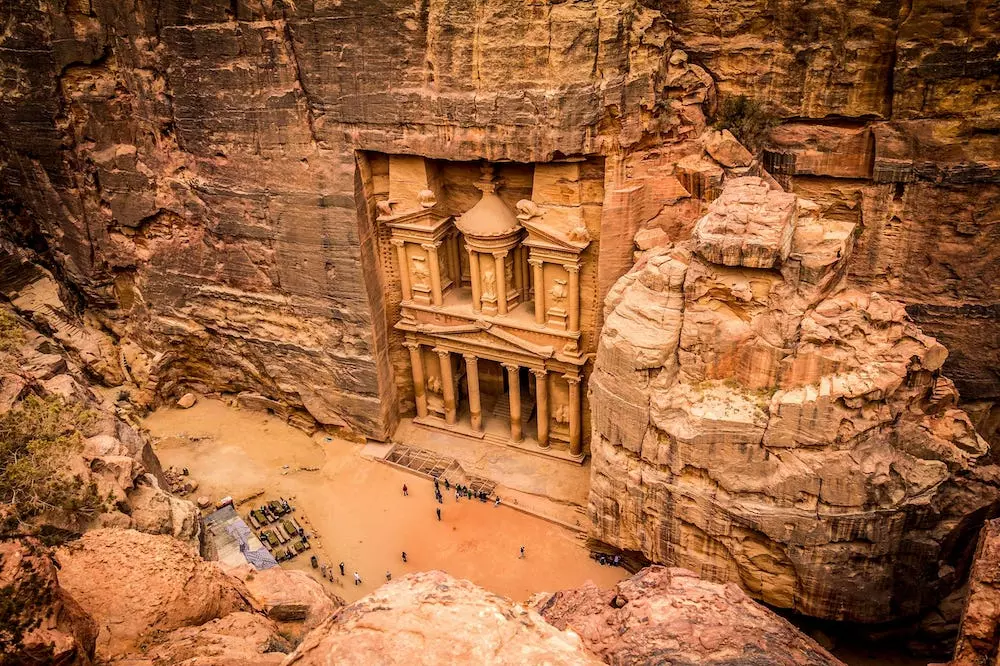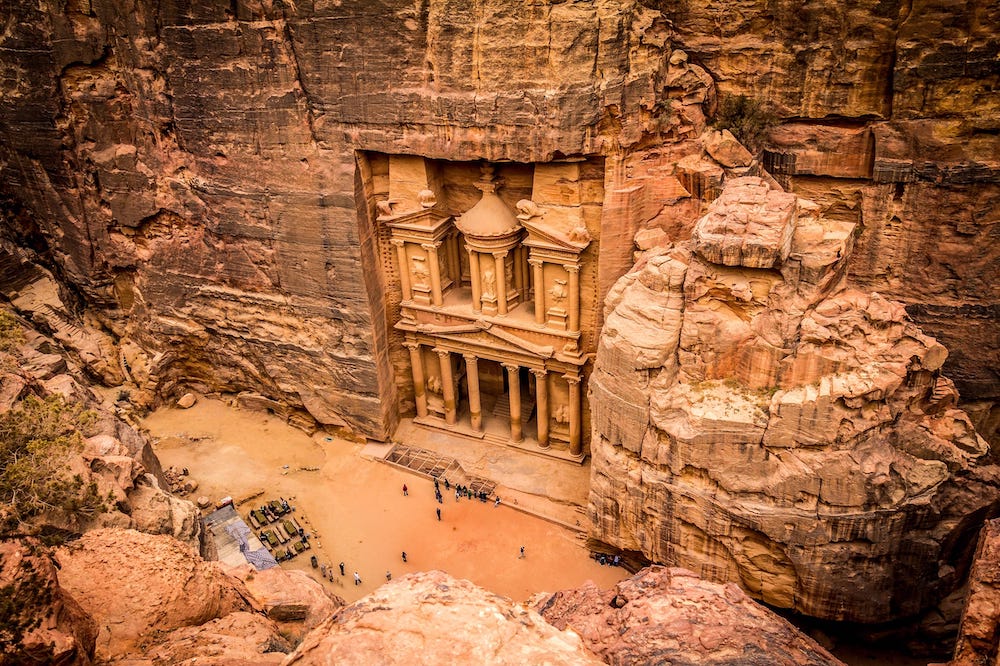 With Egypt on one side, and Israel on the other side, you can enjoy three fascinating countries in a single vacation. There are enough attractions to keep even the most energetic of travelers busy, and there are just as many places where you can enjoy unspoiled natural beauty. Whether you are a backpacker on a shoestring budget, or whether you enjoy a touch of elegance and luxury during your Egypt and Jordan travels, Jordan is ready to welcome you.
Top 10 Jordan Attractions
When it comes to naming the top 10 attractions in Jordan, different people will have different opinions. This list of Jordan top attractions is based on overall popularity. These are the attractions which tend to get mentioned most often by people who have visited and explored the country. Okay, let's go…
#10. Madaba – The City of Mosaics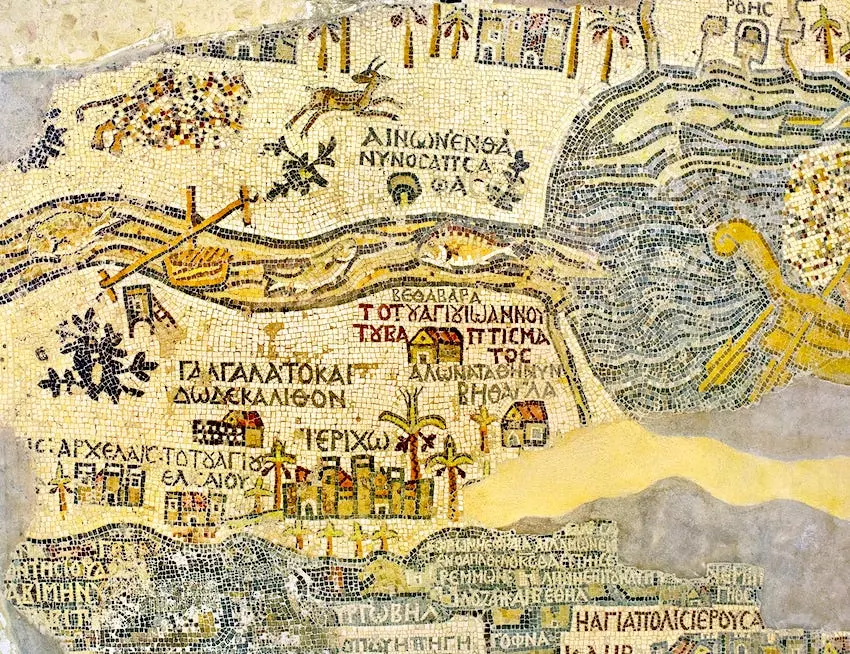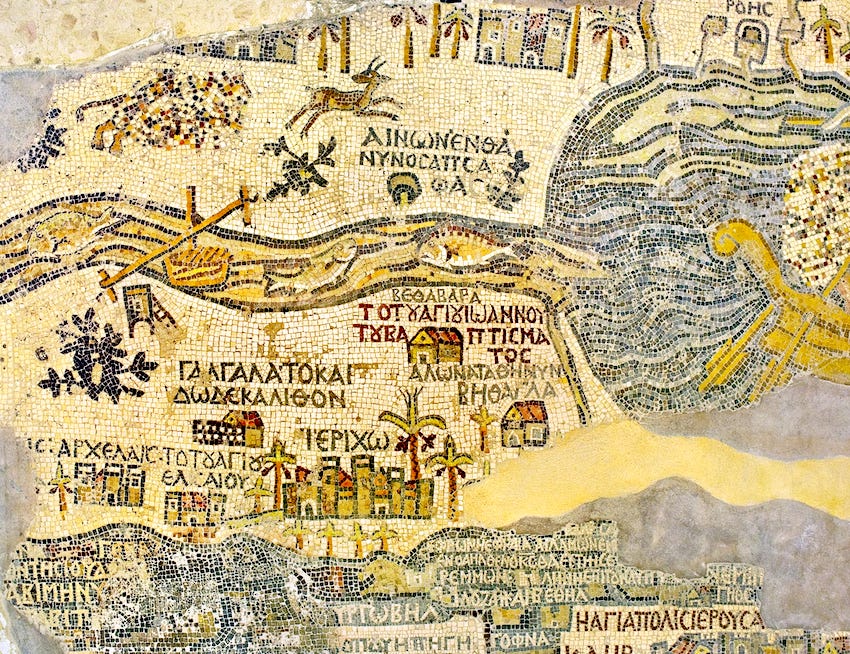 Madaba is a city located in central Jordan. Among tourists, it is best known for its many Byzantine and Umayyad mosaics. Located approximately 30 kilometers from Amman, Madaba is even sometimes referred to as the City of Mosaics. The most famous mosaic at Madaba is a Byzantine-era stone mosaic located in the Greek Orthodox Basilica of St. George.
This is a very detailed mosaic map of Palestine that dates back to the 6th century. It is preserved in the floor inside the Basilica of St. George. More than two million vividly colored stones were used to create this incredible mosaic map. Nearly all of our Egypt and Jordan tours include a short stop at the basilica to see the mosaic.
#9. Mount Nebo – Where Moses Was Shown the Promised Land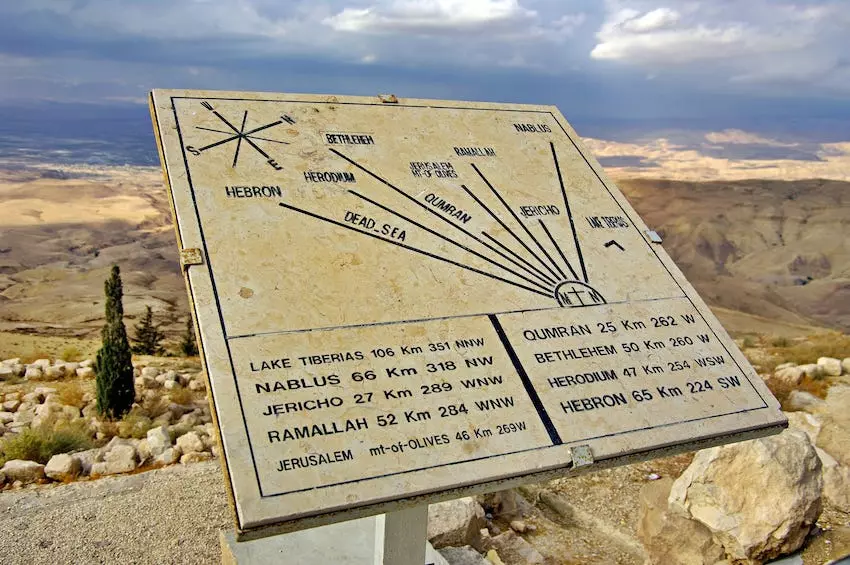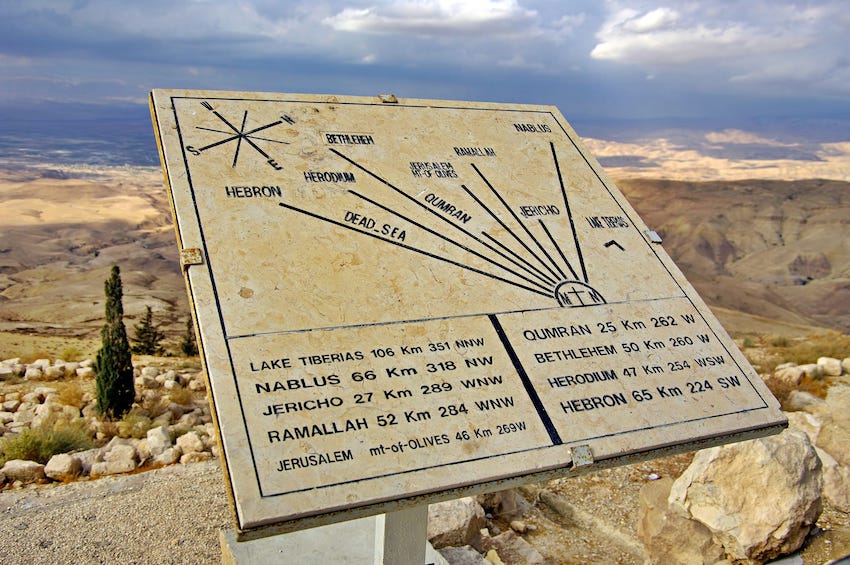 Mount Nebo is another one of the top attractions in Jordan. It is more of a ridge than it is a mountain, with the summit being easily accessible. According to the Hebrew Bible, it was from this mount that Moses was first shown the Promised Land. Visitors who ascend to the summit can enjoy splendid views of the Jordan Valley, the Dead Sea and Jericho. On very clear days, you can even see parts of Jerusalem in the distance.
Most of our Egypt and Jordan tours include a visit to Mt. Nebo and an old monastery. People who book our tours will usually visit this site on their way to the Dead Sea.
#8. Roman Theater – Amman's Most Famous Landmark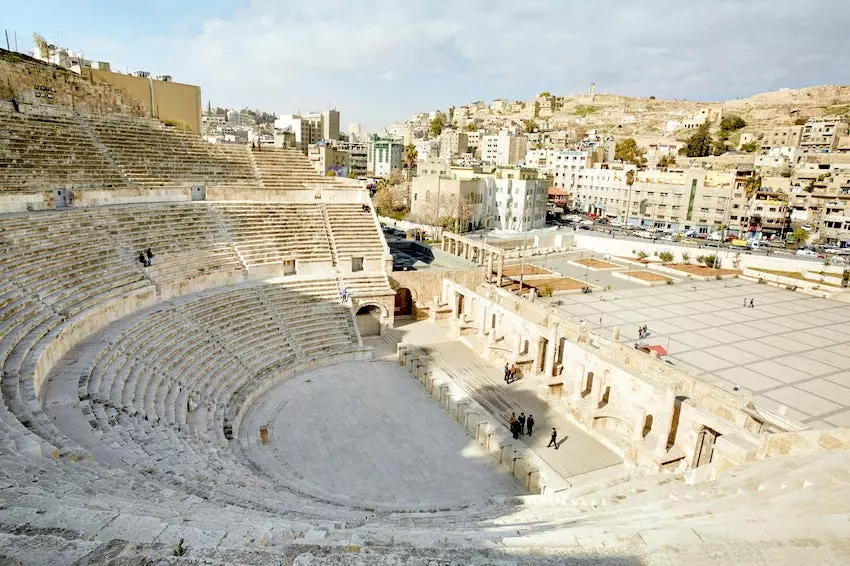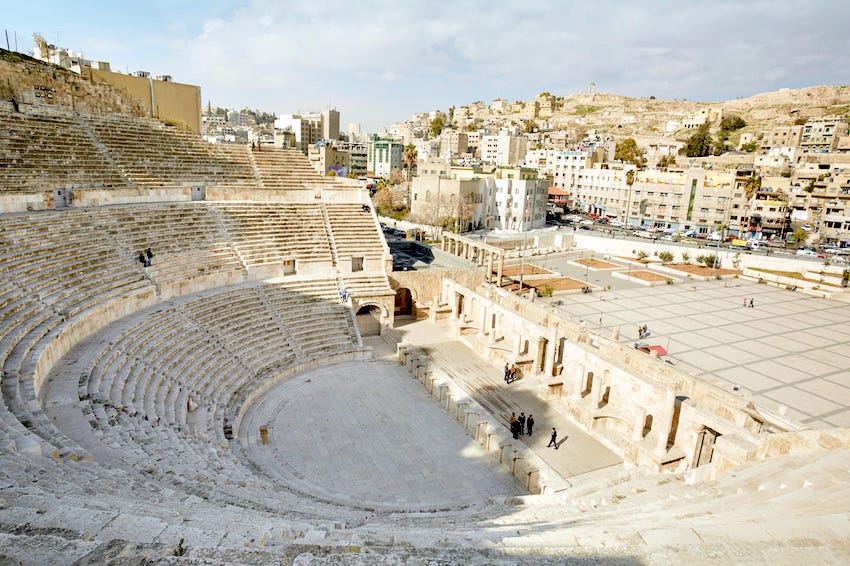 Although the Roman Theater in Amman is one of the top attractions in Jordan, it is not featured in many of our Egypt and Jordan tours. Most of our tour packages include some free time in Amman, so we leave it up to our clients to decide whether or not they want to visit the site. It is located on the eastern side of Amman and is easily accessible to anyone visiting Amman.
The Roman Theater is also home to two museums. If you want some truly spectacular photos, we highly recommend visiting at sunrise and/or sunset. The theater is still used for hosting various functions throughout the year, including musical performances. Contrary to what many visitors initially believe, the Roman Theater was built as a venue for the fine arts, and not for gladiator fights.
#7. Wadi Rum – The Valley of the Moon
Also known as the Valley of the Moon, Wadi Rum is a valley that has been cut out of sandstone and granite in southern Jordan. It is approximately 60 kilometers from the city of Aqaba. In 2011 it was declared a UNESCO World Heritage Site, and today, it is one of the very top attractions in Jordan. Wadi Rum has been inhabited by multiple cultures since prehistoric times.
The area has long been popular among Jordanian who go there for hiking, climbing and etc. However, it was the movie "Lawrence of Arabia" that finally placed it firmly on the tourist map. T.E. Lawrence passed through the area several times and even lived in the area for a spell when he was assisting the Arabs during the 1917/18 Arab Revolt.
Wadi Rum has featured in several well-known movies, including Lawrence of Arabia; Red Planet; Passion in the Desert; Last Days on Mars and The Martian. For people who are interested in adventure tourism, Wadi Rum is like a dream come true. Rock climbing; hiking; camel rides; horse rides and camping under the stars are just some of the activities which visitors can enjoy.
There is also plenty of good quality accommodation, so if you are ready to visit and explore Jordan's second-most popular tourist attraction, give us a call today.
6. Aqaba – Jordan's Only Coastal City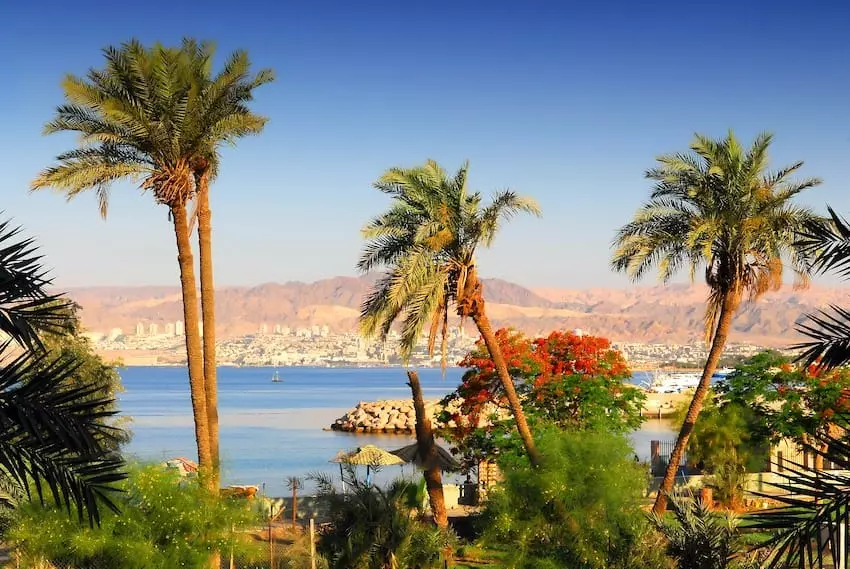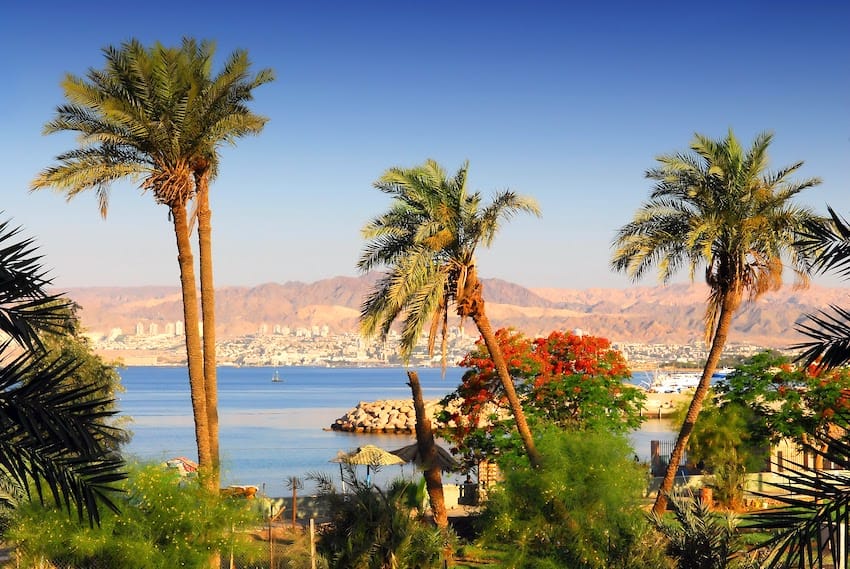 Aqaba is Jordan's only coastal city. It is located the southern-most region of the country and plays a very important role in the country's economy due to trade and tourism. Its close proximity to both Petra and Wadi Rum has further strengthened its position as a major tour attraction.
The area is well-geared for tourism, catering to foreigners and locals alike. There plenty of hotels to choose from, from budget to luxury. Despite having plenty of accommodation, hotels can reach 100% occupancy during long holiday weekends. While there are several places interest in and around the city, most visitors arrive to enjoy the area's sandy beaches and world-class SCUBA diving sites.
#5. The Dead Sea – The Lowest Point on Land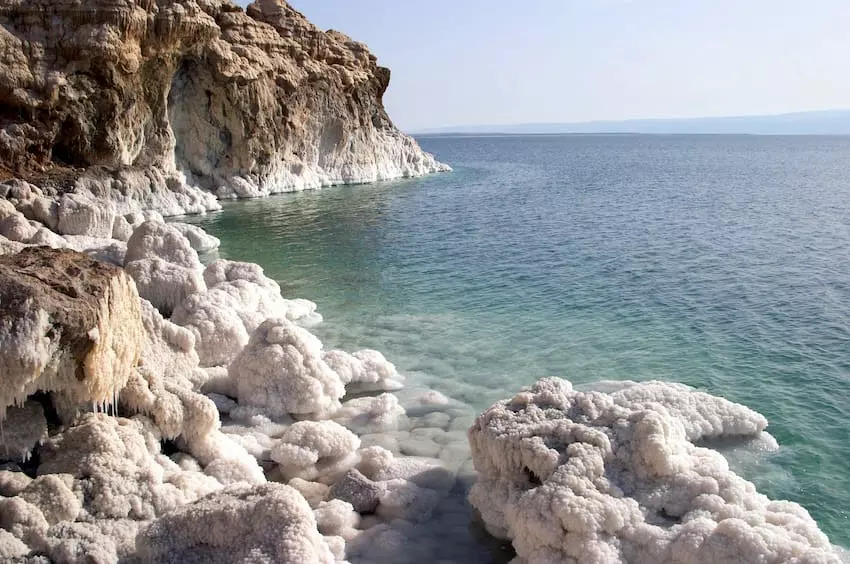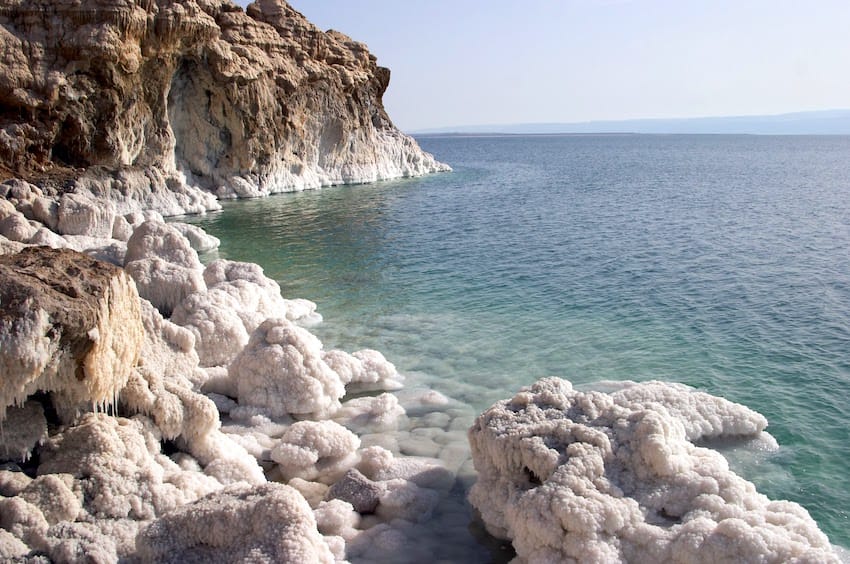 Just about everyone wants to experience how it feels to float on the Dead Sea, so it's hardly surprising that it is one of the top attractions in Jordan. Have you ever wondered if floating the water is as easy as it looks? Well, it is even easier than it looks. You don't have to do anything at all. Just lay back and relax, and enjoy the experience.
At 430.5 meters below sea level, the Dead Sea's surface and shores are the earth's lowest elevation on land. At its deepest point, it is roughly 304 meters deep. It is the world's deepest hypersaline lake. The water is nearly ten times more salty that the water in our oceans.
Most of our Egypt and Jordan tour packages include a visit to the Dead Sea and some time for floating on the water. However, because of the high salt content, we don't advise going into the water if you have any cuts or opened wounds. We also recommend that you take care to avoid getting the water in your eyes.
#4. Ajloun Castle – A 12th-Century Fortress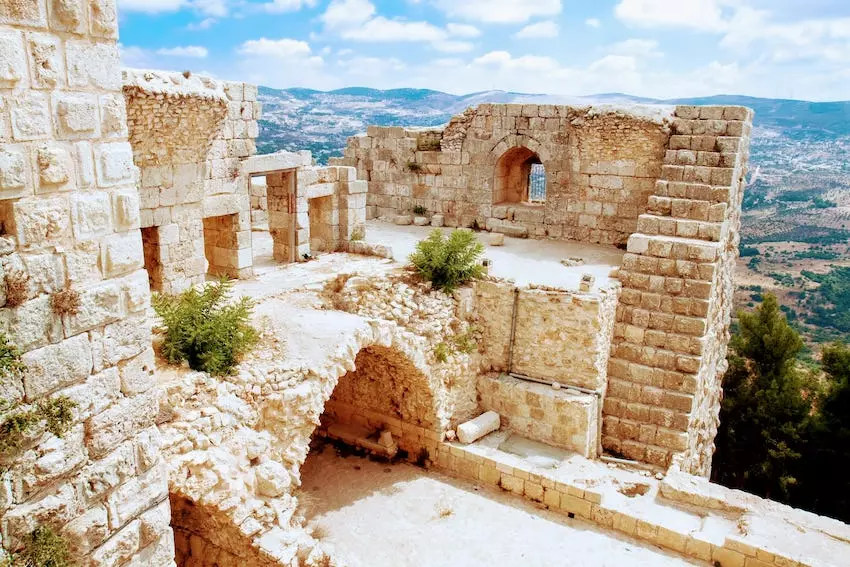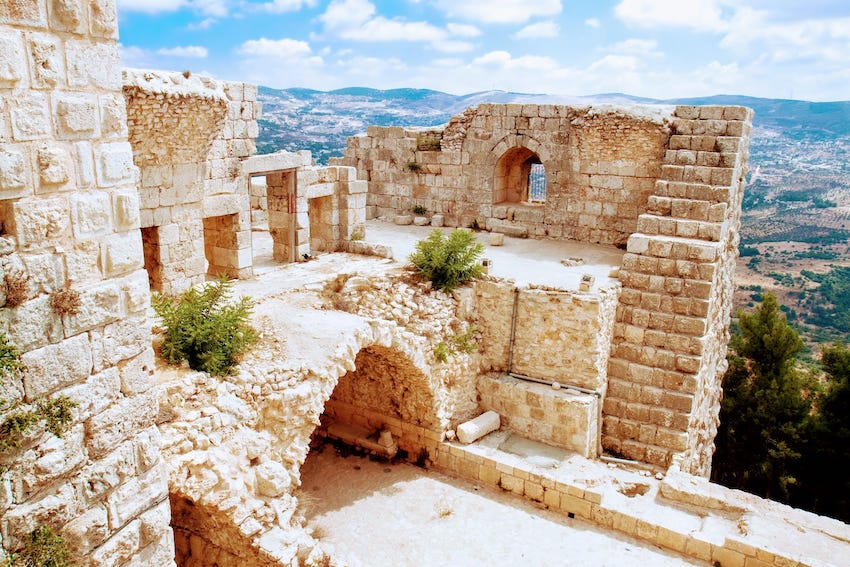 Ajloun Castle is another one of the top attractions in Jordan. The castle as it appears today dates back to the 12th century. The original structure was built on the site of an old monastery. It was later renovated and converted into an imposing fortress in 1184. During the years that followed, it changed hands several times. A number of battles also saw it going through repeated periods of partial destruction and renovation.
Located near to the present-day town of Ajloun, the castle is open to visitors. Visitors can explore most parts of the castle although some areas remain off limits. There is also a small museum where visitors can see a collection of artifacts representing different time periods. Most of our Egypt and Jordan tours include a visit to Ajloun Castle.
#3. Umm Qais – The Ruins of Gadara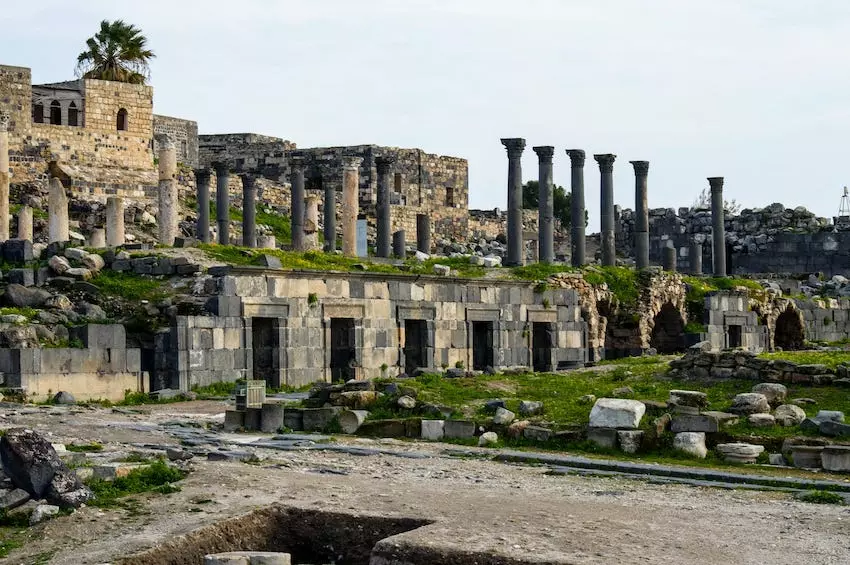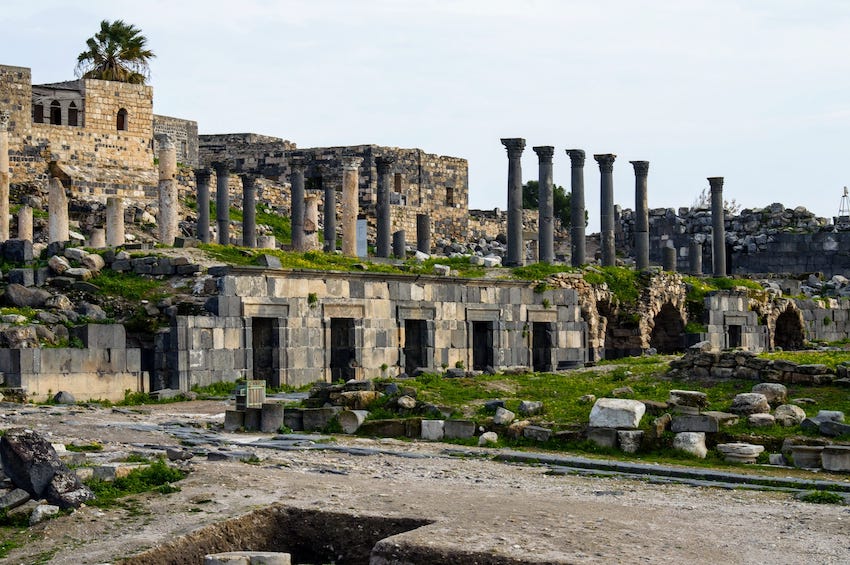 Umm Qais is a town in northern Jordan, approximately 110 kilometers from Amman. Among tourists, the area is best known for the nearby ruins of Gadara, one of the top attractions in Jordan. Gadara was once part of a Decapolis, a union of 10 cities, originally founded by Alexander the Great. The original city was almost entirely destroyed by a major earthquake iand subsequently deserted.
Gadara is also mentioned in the Bible. According to the New Testament, it was here that Jesus performed a miracle known as the exorcism of the Gerasene demoniac. This is the story of Jesus exorcising demons out of a possessed man and into a herd of swine. This in turn caused the swine to run over a cliff and drown in the lake below.
#2. The Ruins of Jerash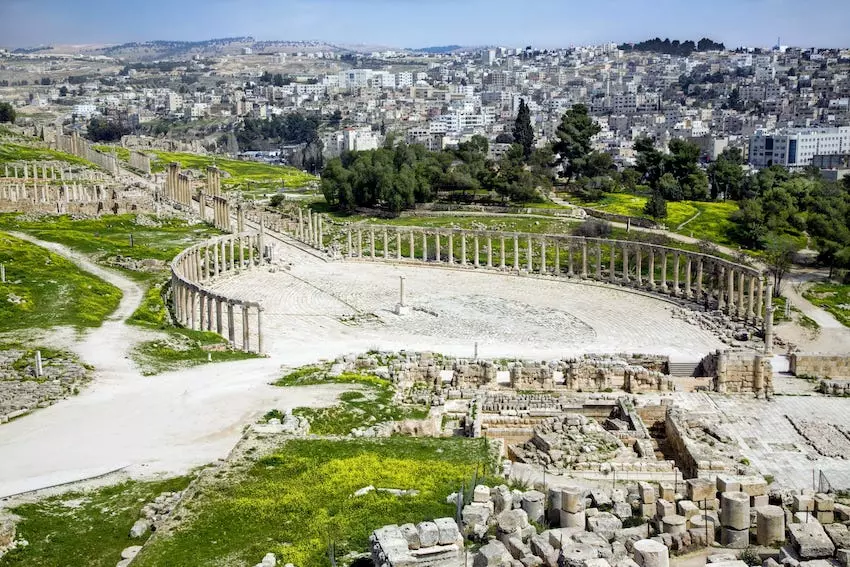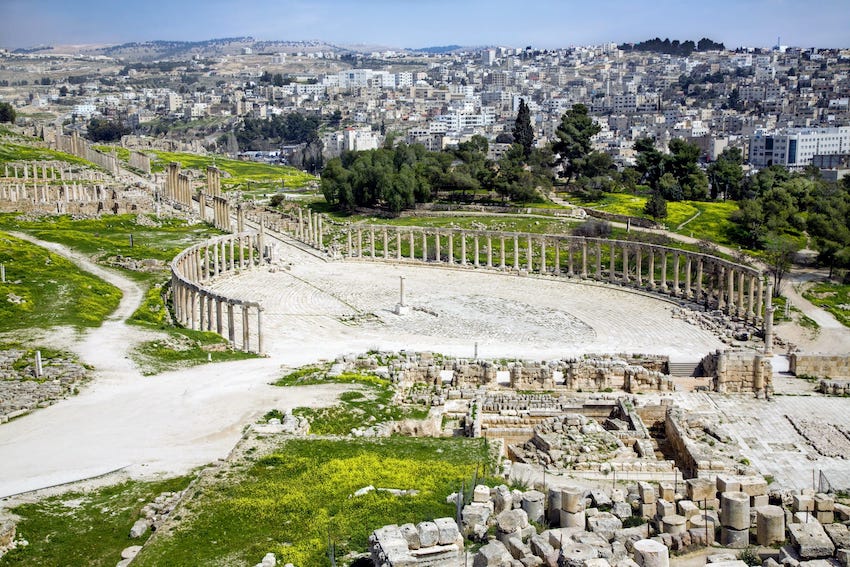 The ruins of Jerash are definitely one of the top attractions in Jordan. With nearly half a million visitors a year, it is also one of the most visited attractions in Jordan. The ruins are located near the modern day city of Jerash, approximately 43 kilometers from Amman, Jordan's capital. Human remains that were discovered nearby show that the area was inhabited by humans as far back as 7500 BC.
The ancient city flourished until about the mid-eighth century CE, at which point it was nearly completely destroyed by the notorious 749 Galilee earthquake. Despite the near total destruction, the ruins are considered to be best example of ancient Roman architecture outside of Italy. Among the biggest highlights at the site are the Colonnaded Street, the Oval Plaza, the Temple of Artemis, and the Nymphaeum.
Almost all of our existing Egypt and Jordan tours include a visit to Jerash where you will meet up with a local guide who will give you a guided tour. These private guided tours generally last for about one hour.
#1. The Lost City of Petra
The Lost City of Petra is Jordan's biggest and most famous tourist attraction. Archeologists believe that the area around Petra has been inhabited since the 7th century BC. They also believe that Nabatean Arabs very likely settled in the area during the 4th century BC. However, evidence suggests that work on the city only began in the 2nd century BC.
The area where the Nabateans chose to create their city was in close proximity to major trade routes. The Nabateans used this to their advantage by creating a major trading hub. They were also very skillful with agriculture and at harvesting and storing rainwater which they could sell to passing caravans. This generated a considerable amount of wealth which they then invested into creating their capital city.
They were also very skillful at stone carving so they set about carving their city out of the surrounding rock faces. There is so much for visitors to see at the site, but the most prominent features are the Street of Facades, the Pharaoh's Castle; the Royal Tombs and the Treasury. The Treasury is by far the most breathtaking feature of them all.
If you book one of our Egypt and Jordan tours you can count on visiting Petra during your trip. Our tours include the admission fee and a private 2 to 3 hour guided tour of the site.
Jordan Top Attractions – Come Explore the Best of Jordan
Explore and enjoy all Jordan top attractions with a certified Category "A" Tour Operator you can rely on. With more than 205,000 tours already sold, we know exactly what it takes to create a flawless holiday experience. Contact us today for a fully customizable dream vacation.
Come Explore the Best of Egypt and Jordan