Inside Petra – The Ultimate Guide to Petra in Jordan
Step inside Petra with our ultimate guide to the Rose Red City of Petra in Jordan. Find out everything you need to know about visiting Jordan's most famous and most breathtaking tourist attraction.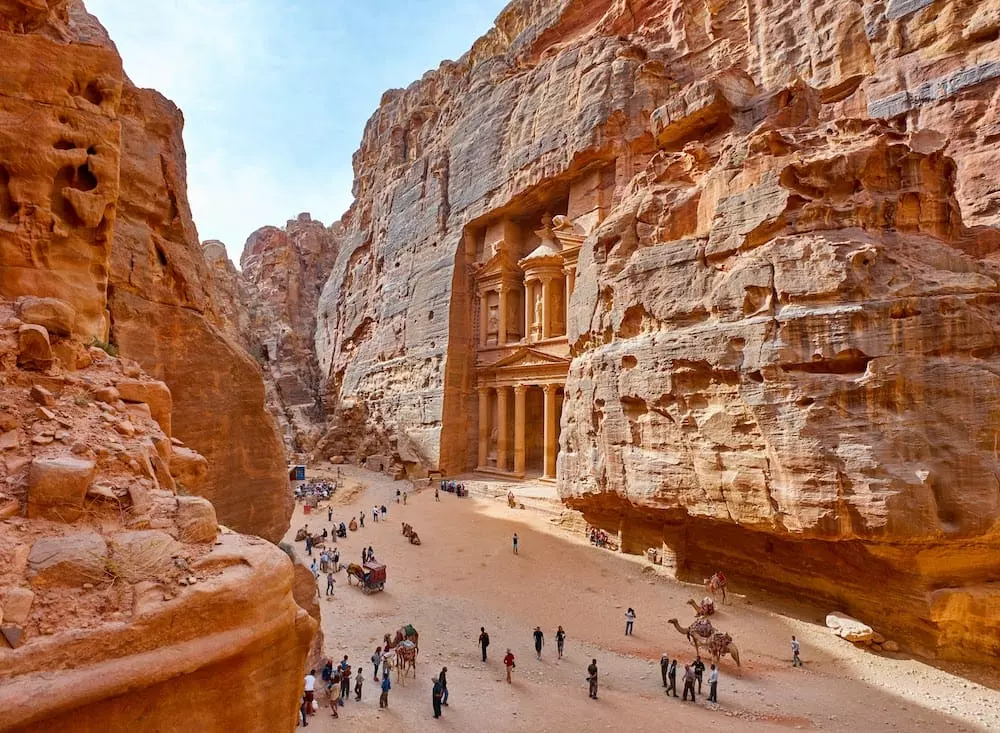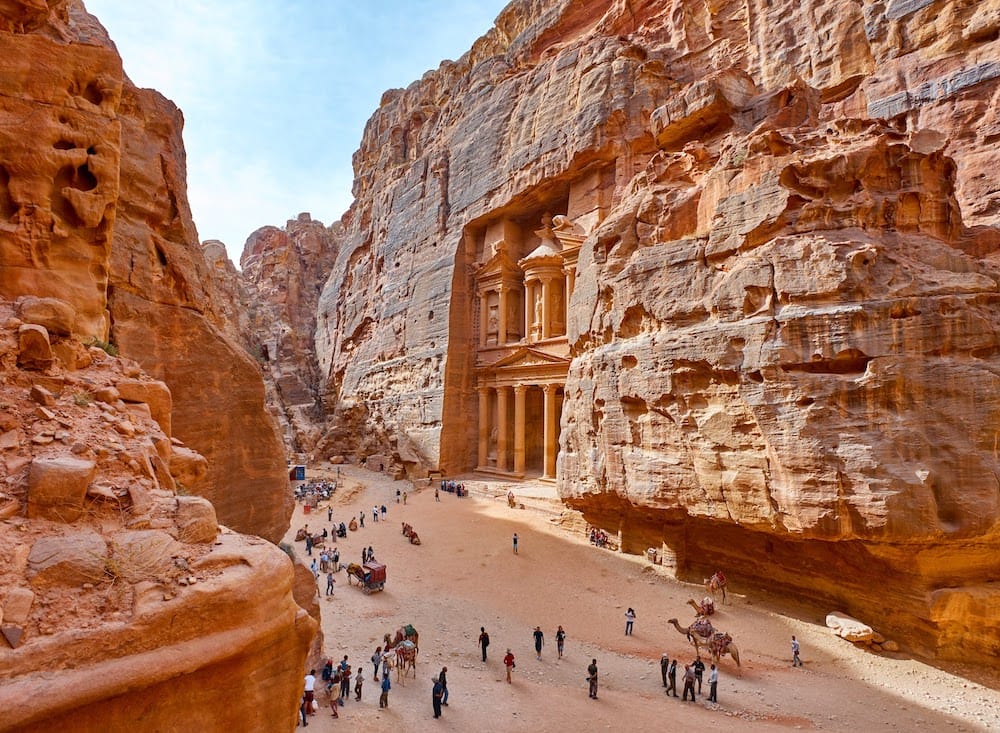 Inside Petra – The Stunning "Lost City of Petra"
To say that the ancient city of Petra is breathtaking is actually an understatement because it is beyond breathtaking. It is one of the most magnificent archaeological sites on the planet. Its discovery in 1812 by Swiss explorer Johann Ludwig Burckhardt literally stunned the world.
Such is the magnificence of Petra City, that a lot of people travel to Jordan purely for the chance to see and explore what is now often called the Lost City of Petra. Since its discovery, an entire town has grown and been developed to cater to the vast number of tourists who visit the site each year.
A Brief History of the Lost City of Petra in Jordan
Petra is the remains of an ancient city that was hand-hewn out of the rock walls of a long and often deep desert canyon. It is believed that work on the city started during the 4th-century BC when a tribe of nomadic Nabatean Arabs settled in the area and set up a trading hub along a major trade route.
Their success allowed them to accumulate great wealth. As their wealth grew, so they were able to expand their Nabatean city, carving tombs, temples, homes, and even an imposing Treasury out of the canyon walls. They also developed a complex network of dams, cisterns and conduits to manage water. This allowed them to have a reliable year-round water supply in this otherwise uninhabitable desert region.
In 312 BC, an envious Greek Empire attempted to invade and drive the Nabateans out but the Nabateans successfully defended their city and the Greeks withdrew. This is the first mention of this hidden city in recorded history.
Unfortunately, in the 1st-century (106 AD) the Romans decided to attack, and on this occasion the Nabateans were defeated and driven out of their magnificent Nabatean city. After capturing the city the Romans named it Arabia Petraea. The city then remained under Roman rule for the next 250 years until a major earthquake destroyed many of the city's buildings.
By the time the 8th-century arrived, the beautiful Rose City of Petra had for the most part been abandoned. For next several centuries, the impressive ancient structures inside Petra only served as shelters for nomadic shepherds and their goats. It remained this way until its discovery in 1812.
In 1985 the Rose City of Petra in Jordan was granted UNESCO World Heritage Site status, and then several years later it was officially named as one of the 7 New Wonders of the World.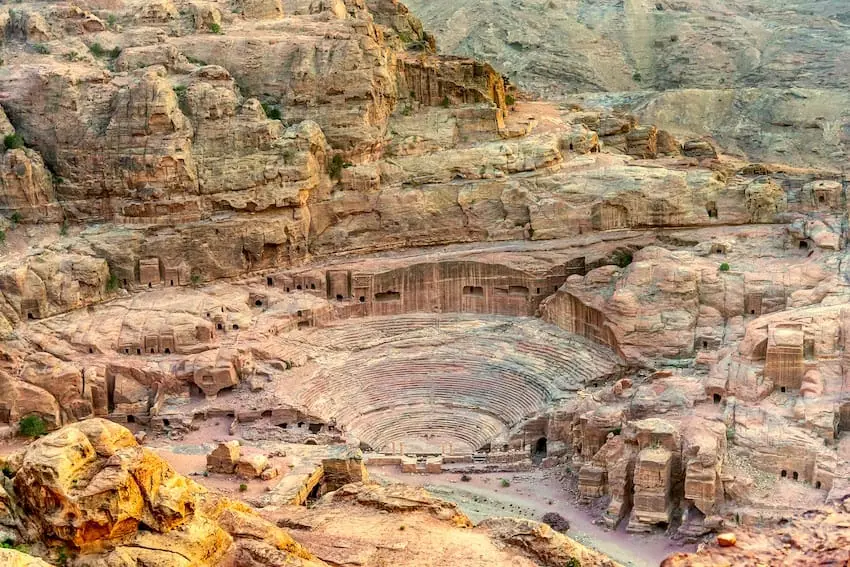 Visiting the Rose City of Petra
Vehicles of any kind are not allowed inside Petra or even beyond the visitor center. From the visitor center, you have to proceed on foot. However, horse, donkey, and camel rides are offered at the site but only in very limited numbers.
Most of our own Jordan tour packages and our Egypt and Jordan tours include a short horse ride from the Visitor Centre to the Siq, a distance of around 700 meters. The Siq is the gate/canyon entrance. Once you pass the Siq, you are then inside Petra.
The distance from the visitor center to the Treasury, which is located at the far end of the canyon, is roughly two kilometers. So, if you can get a horse ride from the visitor center to the Siq, you may want to consider it.
Inside Petra, One of the World's Most Amazing Archeological Sites
Inside Petra is a honeycomb of rock-hewn temples, tombs, and other structures which were carved out of the canyon's pink and red sandstone walls.
How much you get see when you are inside Petra will depend on how much time you spend at the site. Many guided tours last approximately two hours. During these two hours, your guide will ensure that you get to see some of the ancient city's most impressive features.
A two hour tour will include the walk from the Siq to the Treasury which is the most breathtaking and most exciting structure inside Petra. You will also see features like the Colonnaded Street, the Royal Tombs, Qasr El-Bint, and the Amphitheatre. While these might be the most visually striking structures, there really is so much more to see inside Petra.
For example, if you have more time, you can walk up to the Monastery which is another very famous structure at the site. This walk takes about 45 minutes in each direction, but it well worth the walk and it will provide even more excellent photo opportunities.
If you are staying at Wadi Musa for you Petra visit, you could also add "Petra by Night" to your Petra experience. The Petra by Night tour lasts from 20h30 to 22h30 and is only available on Mondays, Wednesdays and Thursdays. During these times, the Siq and the Treasury with its impressive facades are beautifully illuminated with candles, allowing you to take seriously cool photos. At the time of writing, Petra by Night tickets cost 17JD (+/-US$24). 
NOTE 1: Considering how much walking you are likely to do and the sort of terrain involved, it is strongly recommended that you visit with a good pair of walking shoes or a sturdy pair of trainers.
NOTE 2: There is very little shade at Petra. Because of this, sunglasses, sunscreen and a wide-brimmed hat are highly recommended.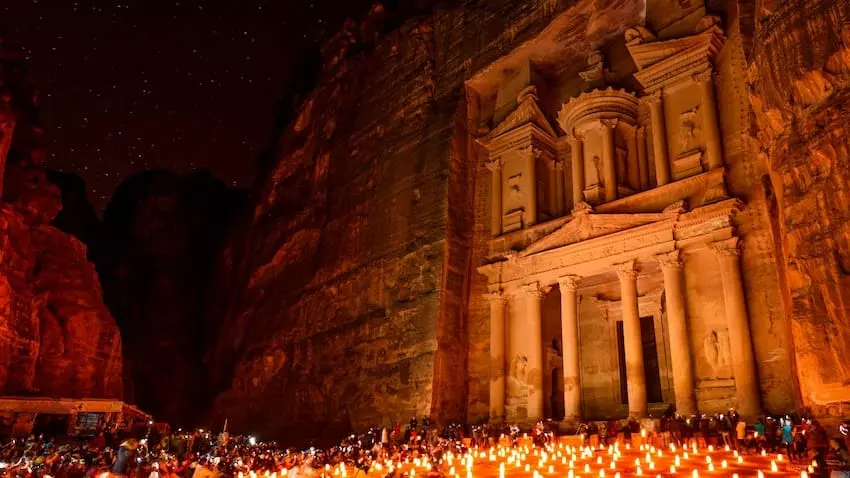 How Much Time Do You Need at Petra?
How much time you need inside Petra really depends on how much you want to see. If you only want to see the most famous features like those mentioned earlier, then a few hours should be adequate. However, if you want to see and explore more of Petra, you will need at least a day or two. After all, Petra covers an area of approximately 60 square kilometers.
If you don't mind doing a lot of walking, there are also some excellent hiking opportunities at Petra. While it's always nice to have a friendly guide with you, it can work out quite expensive but fortunately it is typically okay to enjoy a hike without guides.
No matter how much time you intend spending in Petra, be sure to carry adequate drinking water with you, preferably in a good quality insulated water bottle or water bottles.
For those with time to spare, there is also the lesser known Little Petra about 10 km from the main Petra site. While it is not as impressive as the main site, there is a still lot to see.
Many people visit Petra by way of a day trip from Amman or Aqaba. However, if you want to spend a day or more exploring Petra then you should rather stay in Wadi Musa. There is plenty of hotel accommodation available for all budgets, with some hotels being within walking distance from the Petra Visitor Centre.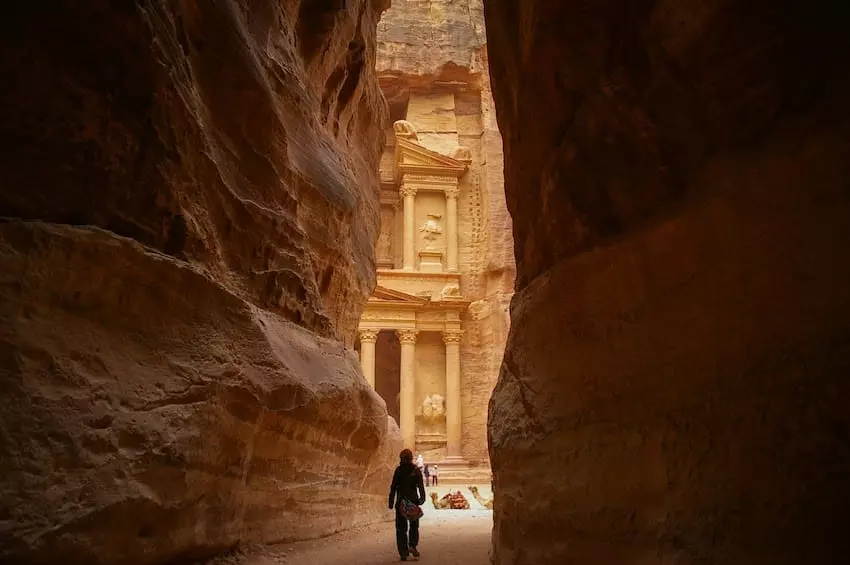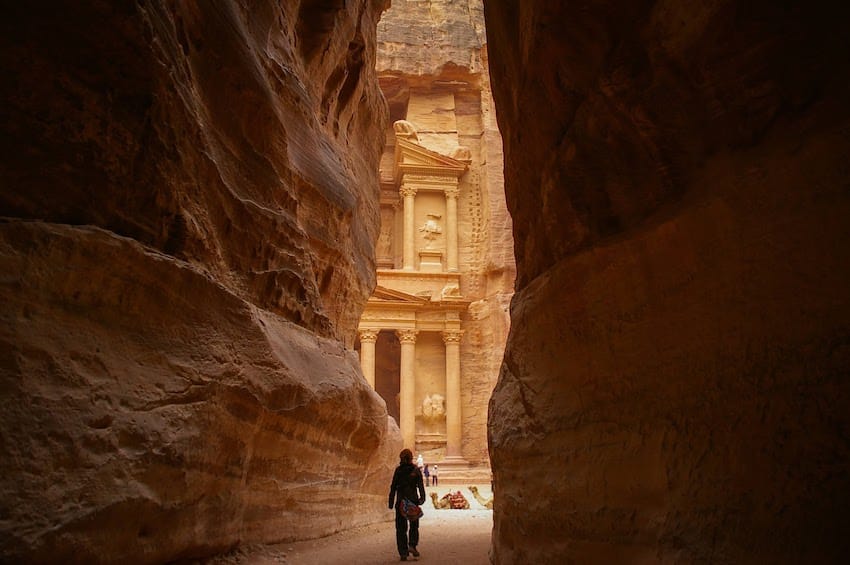 Can Visitors Spend the Night Inside Petra?
Unfortunately, the Jordanian authorities don't allow tourists to stay inside Petra unaccompanied at night. You can however book a cave stay with Bedouin hosts. Bedouin hosts who offer cave stays are very warm and welcoming, and they usually try to give you a truly authentic experience. With some cave stays, you will have the choice of sleeping in the cave, or sleeping outdoors under the stars.
How Much Does it Cost to Visit Petra
At the time of writing, the entrance fee for Petra was 50JD (+/- US$70) which allows you one full day inside Petra. If you plan on staying in the area a bit longer and/or you have a flexible travel schedule, consider purchasing a two-day or three-day ticket which costs 55JD and 60JD respectively. This allows you to spend two or three days inside Petra. Not only does this allow you to see more, but it also allows you to explore at a more leisurely pace.
Be aware that if you visit Petra as part of a day trip from a neighboring country, or if you visit on the same day you arrive in Jordan, the entrance ticket for Petra will cost nearly twice as much. However, if you are still in Jordan the following day, you can return to the Petra Visitor Center and you will be given a partial refund.
Getting to Petra
Most people who visit Jordan enter the country via Queen Alia International Airport in Amman, Jordan's capital city, or they enter via King Hussein International Airport at Aqaba. If you have booked a tour, the tour company will provide transport to and from the site.
If you are traveling independently, you will have the option of using a taxi or a bus. If you opt for using a taxi, expect a one-way trip from Amman to Petra to cost upwards of 85JD (+/- US$120). The journey in a taxi or private vehicle takes about three and a half hours.
Catching a local bus is significantly cheaper but the journey takes longer and it's a lot less comfortable.
If you are going to be visiting Petra from Aqaba, and you choose to use a taxi, expect to pay upwards of 50 JD (+/- US$70). The journey takes roughly two hours if you take the fastest route. Once again, buses are a cheaper but less comfortable option.
Inside Petra – FAQ & Interesting Facts
What is Petra Jordan?
Petra is an Archaeological site consisting of the ruins of an ancient rock-hewn city that was founded during the 4th century BC by a nomadic tribe of Nabatean Arabs. 
Is Petra a wonder of the world?
Petra in Jordan became a UNESCO World Heritage Site in 1985 and in the early 2000s it was officially names as one of the Seven New Wonders of the World. 
Is Petra open for tourists?
Yes, the Petra Archaeological Park is open for tourists. As of the time of writing, a one-day entrance ticket cost 50JD, roughly US$99. Two and three-day tickets are also available. 
Is it safe to visit Petra?
Yes, Petra, like most of Jordan, is a very safe place to visit. As of the time of writing, no countries have issued travel warnings or travel advisories regarding Petra. 
What's inside of Petra?
Inside Petra you will find a collection of ancient tombs, temples, a monastery, and numerous our rock-hewn structures, with the most impressive being the now legendary Treasury.
Can you go inside Petra?
Yes, visitors are allowed inside Petra. However, visitors are no longer allowed enter the site's most iconic and most famous structure, the Treasury.
How long to spend in Petra?
To see Petra's most famous and most breathtaking sites, a two-hour guided tour should be sufficient. To see all of Petra would require at least two or three days. 
How to get to Petra?
Taxis, private vehicles, and buses are the only means of getting to Petra from cities like Amman and Aqaba. One can also book Petra tours which include transport to and from the site. 
Where is Petra located?
Originally known as Raqmu, Petra is located adjacent to a mountain known as Jabal Al-Madbah in southern Jordan, approximately 230 kilometers (143 miles) from Amman, the country's capital city.
What country is Petra in?
Petra is located in southern Jordan, roughly 230 kilometers (143 miles) from the country's capital, Amman, and approximately 125 kilometers (78 miles) from Aqaba on the Red Sea coast.
Where in Jordan is Petra?
Petra is located in southern Jordan, approximately 230 kilometers from the Jordanian capital, Amman. The closest town to the Petra archaeological site is Wadi Musa (Moses Valley).
What desert is Petra in?
Petra is located in Jordan's Wadi Araba desert which is part of the Jordan Rift Valley that stretches from Aqaba to the Dead Sea, an area known for its barren landscape and its many sandstone canyons.
How far is Petra from Amman?
The road distance from Amman to Petra via the Kings Highway is roughly 230 km. If traveling via the far more scenic Desert Highway the distance is about 240 km but the journey takes a lot longer.
How far is Petra from the Dead Sea?
The distance from Wadi Musa to Amman Beach at the Dead Sea is roughly 198 kilometers. Wadi Musa, which foreigners often call Petra Town, is the closest town to the Petra archaeological site.
How far is Petra from Egypt?
Assuming you fly from Cairo International Airport in Egypt to Queen Alia Airport in Amman (473 km) and then travel from Amman to Petra (230 km), you will cover a total distance of around 503 km.
How far is Petra from Cairo?
The shortest travel distance from Cairo to Petra is 676 kilometers via Route 50M. This includes the drive from Cairo to Taba, the ferry crossing to Aqaba in Jordan, and the drive Wadi Musa (Petra).
How far is Petra from Israel?
The distance between Petra and Israel depends on which Israeli city you are traveling from. For example, Tel Aviv is 328 kilometers from Petra while Eilat is only 143 kilometers from Petra. 
How far is Petra from Jerusalem?
The Lost City of Petra in Jordan is located approximately 268 kilometers from Jerusalem if you travel along the Jordan Valley Highway (Route 65). If you travel via Route 15, the distance is 305.2 km.
Why & When Was Petra Built?
Why was Petra built?
Petra was initially a Nabatean controlled stopping point on a major trade route where traders and their camels could rest up. As trade grew, so too did Petra, later becoming the Nabatean capital. 
When was Petra built?
While Nabatean Arabs were living in the region as early as 7000 BC, it's believed that the city of Petra was founded during the 4th century BC. By the 1st century AD, it was a flourishing city.
How was Petra built?
Most of the structures that one sees at the Lost City of Petra were hand-hewn out of two types of pink/red sandstone which made up the bedrock on which the city was built.
What type of rock is Petra made from?
Most of the structures at Petra were all carved out of two layers sandstone. The lowest structures were carved from Umm Ishrin sandstone while the higher structures were carved from Disi sandstone.
Do I need any vaccinations?
Certain vaccinations are recommended but you don't have to have these in order to visit. However, people traveling from certain countries will have to show proof of Yellow Fever immunization.
Only people traveling from countries that have Yellow Fever are required to show proof of Yellow Fever immunization.
We strongly suggest speaking to your personal healthcare provider concerning pre-travel vaccination for the following illnesses:
Diphtheria
Tetanus
Hepatitis A & B
Measles, mumps and rubella
Polio
Typhoid
Rabies
Please ask your tour consultant for latest Covid-19 requirements.
How many years did it take to build Petra?
Petra was initially founded during the 4th century BC and reached its peak during the 1st century AD. Nobody knows exactly how many years it took to build the city of Petra.
How old is Petra?
Nobody knows exactly when work on the city began, but we do know that it had become a flourishing city by the 1st century when the Greek Empire tried to capture it.
Who built Petra?
The ancient city of Petra was founded by a tribe of nomadic Nabatean Arabs who settled in the area to set up a trading hub on a major trade route. 
What was Petra used for?
Petra served as a major trading hub on an important trade route. Wealth accumulated from this resulted in rapid growth, with Petra soon becoming the Nabatean capital.
How many people lived in Petra?
At its peak during the 1st century AD, when the city covered an area of approximately 60 square kilometers, it is believed that Petra was home to roughly 20,000 inhabitants. 
When was Petra discovered?
After the ancient city of Petra in Jordan was abandoned, it was all but forgotten and remained unknown until it was rediscovered in 1813 by a Swiss explorer, Johann Ludwig Burckhardt.
Why was Petra Abandoned?
The last people to occupy the city were the Byzantines who slowly but surely moved away as new sea trade routes were established and the city's significance as a major trading hub diminished.
Has Petra been destroyed?
Yes, much of Petra, and particularly its free-standing structures, were destroyed by the Galilee Earthquake, a pair of major earthquakes that struck on the 18th and 19th of May in 363 AD.
Is Petra in the bible?
Yes. Among other things, the High Place of Sacrifice at Petra is believed to be the place where Abraham sacrificed his son who was then saved by an angel.
Popular Trips to Egypt and Jordan