EGYPT TOURS FROM CANADA 2023
Are you planning a vacation in Egypt? Find all the information you need about Egypt tours from Canada right here, or simply click on the button below and start planning your trip in 3 easy steps.
THE BEST OF EGYPT YOUR WAY
Create your own tour or select one of our private Egypt vacations from Canada.
Private guide & driver
All tours include personal expert guide and air-conditioned modern car with driver.
We speak your language
Our online tour consultants and Egyptolist tour guides speak English fluently.
Make memories that last a lifetime
– travel safely and securely with your own guide and driver and make memories that last a lifetime
200,000 dream vacations
We are proud to have provided half a million people with the tour of their life.
Traveler's Choice 2020 & 2021
Awarded TripAdvisor's Traveler's Choice in both 2020 and 2021. So expect always the best!
We are always at your service
We are ready to answer your questions and help with travel arrangements 24/7. 
The Egypt tour package of your dreams
– travel in safety and comfort
Canadians account for a large percentage of the people who visit Egypt each year. Some choose to travel independently, while other prefer to book pre-packaged Egypt tours from Canada. Whether you are looking for the ultimate vacation package to Egypt from Canada, or whether you simply want to find more information about travel to Egypt from Canada, we can help.
With more than half a million tours sold, and winner of the TripAdvisor "Travelers' Choice Award 2020 & 2021, we know how to make any trip to Egypt an unforgettable travel experience.
Egypt Travel Packages from Canada
Everything you need to know to travel to Egypt from Canada
All Trips Abroad Begin with a Passport and a Visa
As is the case with nearly all nationalities, Canadian travelers and/or those in possession of a Canadian passport need a tourist visa in order to visit Egypt. So, in order to travel to Egypt from Canada, you will need a valid passport with at least 6 months validity remaining, and a valid tourist visa.
Fortunately, Canadian passport holders don't face any obstacles when it comes to getting an entry visa for Egypt. You can apply for your visa at your nearest Egyptian embassy or consular office prior to visiting the country or you can get a visa on arrival at any international port of arrival in the country, including Cairo International Airport and Sharm El Sheikh International Airport
Continue reading to find all the information you need to plan a perfect trip to Egypt.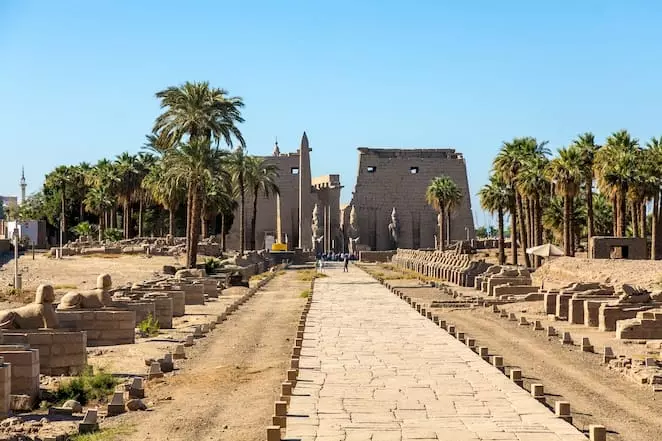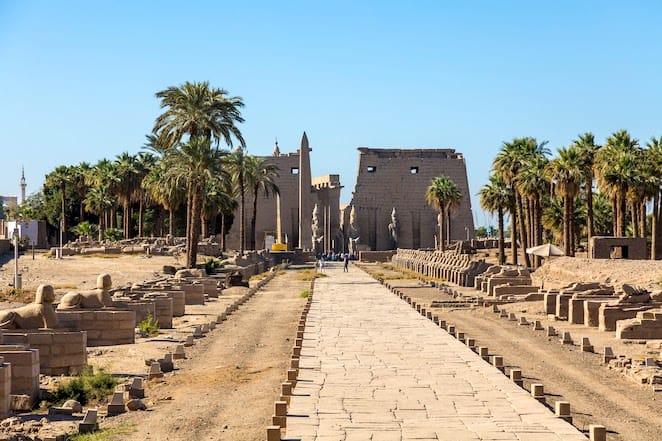 Egypt e-Visa – The Most Convenient Option
Canadian citizens are also able to obtain an Egypt e-visa online prior to visiting Egypt. To do this, visit the official Egypt e-Visa portal and set up an account. Next, choose what sort of visa you want; complete the application and send payment using your credit card or debit card.
Once your application has been received and approved, you will be notified via email. You can then log into your Egypt e-visa account and your visa will be available for you to download and print. When you land in Egypt, you simply present your printed visa to an immigration officer who will then stamp your passport.
Egypt Tourist Visa Costs
At the time of writing, "single entry" tourist visa cost US$25 while "multi-entry" tourist visas cost US$60. The cost of your visa is the same regardless of whether you get it at an Egyptian embassy, on arrival at an airport in Egypt, or via the online e-visa portal.
Visa-Free Travel to Sharm El Sheikh, Egypt
The citizens of many countries can visit Egypt's Sinai Peninsula without any need for a visa. If you don't intend traveling to other parts of the country, you can get a free entry stamp at the airport in Hurghada or Sharm El Sheikh. These stamps allow you to remain in the country for up to 14 days. However, you are not allowed to travel outside the Sinai region.
Free 14-day entry stamps also cannot be renewed or extended. At the end of your 14 days you have to leave the country. If you leave the Sinai Peninsula for any reason, including SCUBA diving trips, you run the risk of being caught and subsequently being charged with being in the country illegally.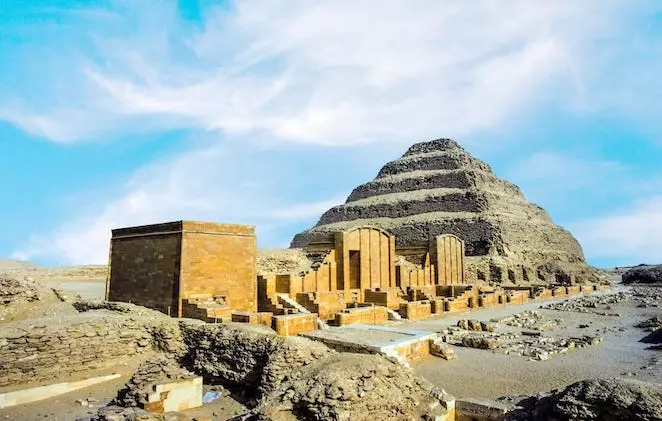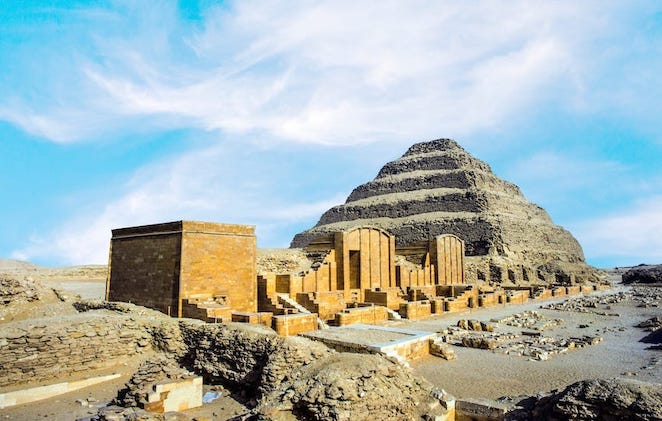 Travel Advisory to Egypt from Canada
According to the official Government of Canada website, Canadian travelers are advised to exercise a high degree of caution when visiting Egypt due the threat of terrorism. The government has also broken this down by issuing alerts that are specific to certain regions in Egypt:
Governate of North Sinai
Travelers should avoid all travel to the governorate of North Sinai due to the risk of terrorist activities and ongoing Egyptian military operations.
Northern Part of South Sinai Governorate
Travelers should avoid non-essential travel to areas north of St. Catherine, with a few exceptions, including Nuweiba, cities along Ras Sedr and El Tor routes, and the Cairo Suez desert Road.
Libyan Border Area and the Western Desert
Travelers should avoid all travel to areas that are closer than 50 kilometers to the Libyan border due to the risk of terrorism and ongoing operations by the Egyptian armed forces. Likewise, visitors should avoid visiting the White Desert, the Black Desert, the Siwa oasis, Bahariya oasis, Bawati oasis, Dakhla oasis and the Farafra oasis.
NOTE: None of our own Egypt tours from Canada feature any of the places mentioned in Canada's travel advisory.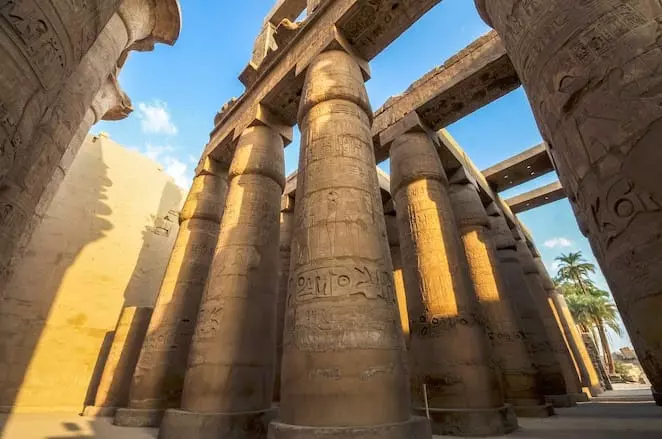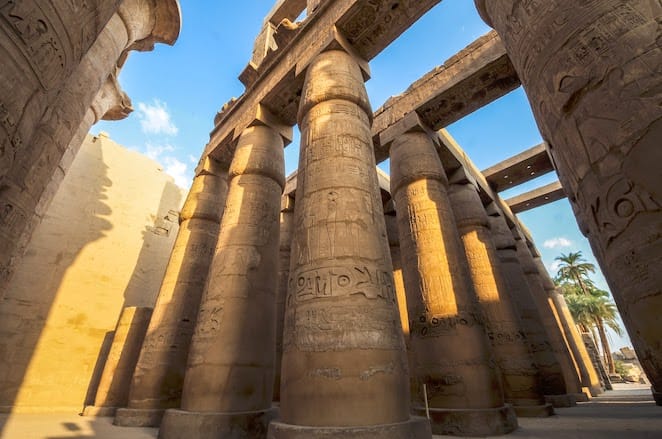 Safe and Hassle-Free Travel to Egypt from Canada 
Egypt tours from Canada shouldn't only be an amazing trip crammed full of sightseeing at ancient tourist attractions. When you travel to Egypt from Canada, you should be safe, and your trip should be as hassle-free as it possibly can be. 
With Egypt and Jordan Tours by Egypt Tours Plus, you can book your vacation package to Egypt from Canada with absolute confidence and peace of mind. After all, you will be traveling with an Egypt tour operator that has already sold more than 500,000 tours. That's more than half a million dreams brought to life, safely and professionally.
When you travel with us, you can be sure that every last detail has been taken care so that you can enjoy Ancient Egypt without a care in the world. You also have a highly trained and highly skilled guide by your side while visiting Egypt's many breathtaking tourist sites. You even have your own vetted private driver to drive you around.
Not many Egyptians speak English but this is not something our clients need to worry about. All of our guides and customer service personnel are fluent in English as well as several other languages.
Why Book Egypt Tours from Canada?
The main reason why people book Egypt tours from Canada is simply because Egypt is a truly fascinating country to visit. Egypt is also a very safe country to visit providing you avoid certain areas such as those which have been mentioned in the "travel advisory" section.
Egypt is a country with astonishing ancient history and an abundance of breathtaking historical sites that can keep visitors thrilled for days, weeks, months, or even years. Besides all the ancient pyramids, temples and tombs, Egypt also has beatiful beaches in places like Sharm El Sheikh, Hurghada and Marsa Alam.
Egypt also has some of the world's finest dive sites that attract SCUBA divers  and snorkelers from all over the world. In short, Egypt has everything you need in order to enjoy a perfect vacation.
Whether you want to immerse yourself in ancient history, or whether you want relax and unwind on the Red Sea coast, Egypt is a perfect destination.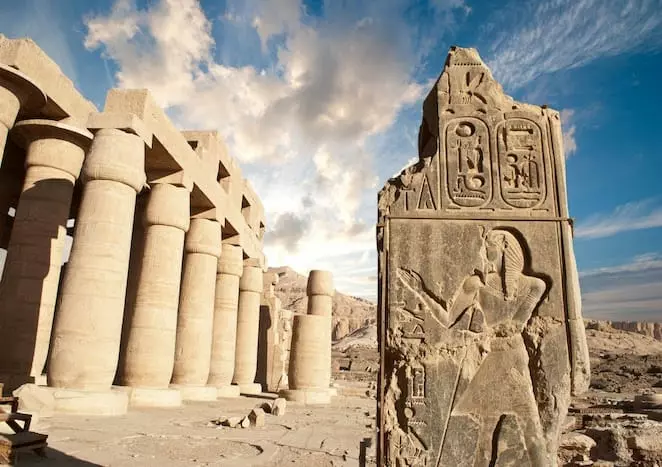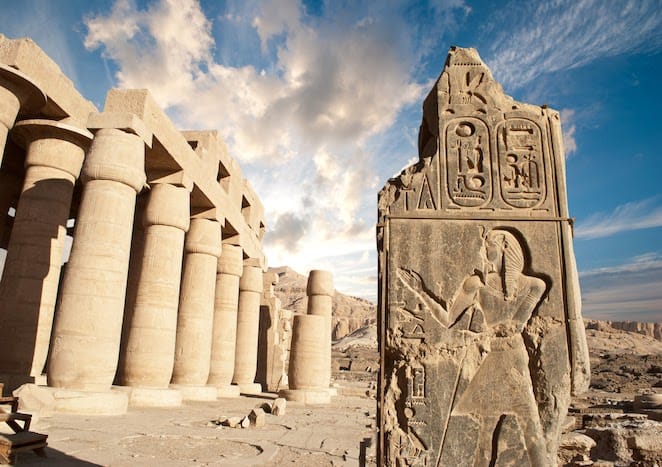 Arriving in the Land of the Pharaohs
While places like Sharm El Sheikh and Hurghada do have international airports, most tourists arrive in the country via Cairo International Airport. Most visitors also stay in Cairo for a few days before heading off to other parts of the country. After all, Cairo is home to the infamous Giza Pyramids and Sphinx.
Cairo is also home to the world famous Egyptian Museum and the much new Grand Egyptian Museum. Travel just a short distance from Cairo, and you can the very pyramid ever built by the ancient Egyptians, the Step Pyramid of pharaoh Djoser at Saqqara. Travel a a short distance in a different direction, and you can visit the Dashur Pyramids, all of which are older than the pyramids at Giza.
There is no denying that Cairo has plenty to see and do, but exploring the city on your own is not without challenges. Public transport in Cairo is affordable and generally very good, but using it can be very frustrating and very time consuming for visitors who are unfamiliar with how the system works. Very few Egyptians speak English, so there also the language barrier to contend with.
All things considered, Egypt tour packages are the best and most hassle-free way to explore Cairo and the surrounding area.
Nearly all of our own Egypt tours from Canada include at least two days in Cairo and one or more private guided tours. After that, our clients are typically then flown to Aswan or Luxor for a Nile cruise.
Experience the Magic of a Nile River Cruise
There is no better way to enjoy the marvels of the ancient Egyptian civilization than by way of a Nile River cruise between Aswan and Luxor. Sure, you have the legendary Pyramids of Giza on the outskirts of Cairo, but many of Egypt's other breathtaking archaeological treasures are located along the banks of the Nile River between Luxor and Aswan.
A good quality Nile River cruise itinerary should include full board and professionally guided onshore excursions to several famous ancient sites. These include places like Luxor Temple, Karnak Temple, Valley of the Kings, Hatshepsut Temple, Colossi of Memnon, Philae Temple and more.
Some Nile cruise itineraries also include a visit to the massive rock-hewn temples of Ramses II, Egypt's second-most instantly recognizable ancient monument. However, many tour operators offer this as an optional tour due to the fact that the Abu Simbel Temples are about a 3.5 to 4 hour drive from Aswan.
Nile River cruises come in three distinct flavors: Felucca cruises, Dahabiya cruises, and regular cruises.
Felucca cruises are basically bare bones cruises aboard small traditional sail boats. They are popular among backpackers. Most such cruises don't include any guided tours or excursions. They also don't including any meaningful accommodation, with passengers often sleeping under the stars. None of our Egypt tours from Canada include a Felucca cruise. 
Dahabiya cruises, on the other hand, can often be a luxury cruise experience. These are traditional river yachts with their signature front and rear sails. The basic design of these boats has remained unchanged for countless centuries. The same cannot be said about their interiors. Some of the Dahabiyas that are now being used for Nile cruises are absolutely luxurious.
Large boat cruises are the most popular Nile cruises. These are the large tourist boats operate between Aswan and Luxor. Some of these vessels are essentially like floating 5-star hotels with a wide range of amenities that one would find at most good hotels.
While some of our Nile cruise packages and Lake Nasser cruise packages feature Dahabiyas, most feature these larger ships, all of which are 5-star rated.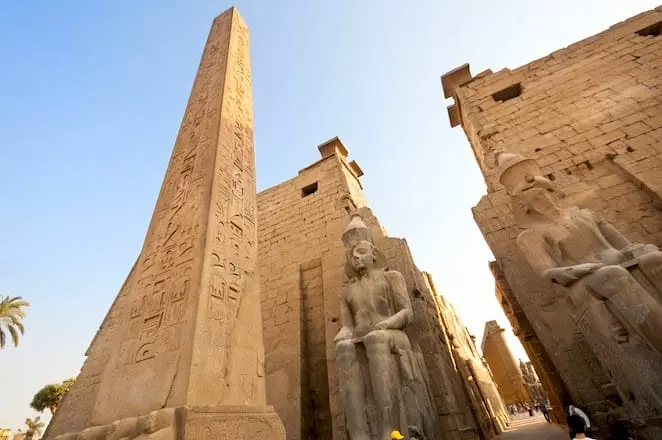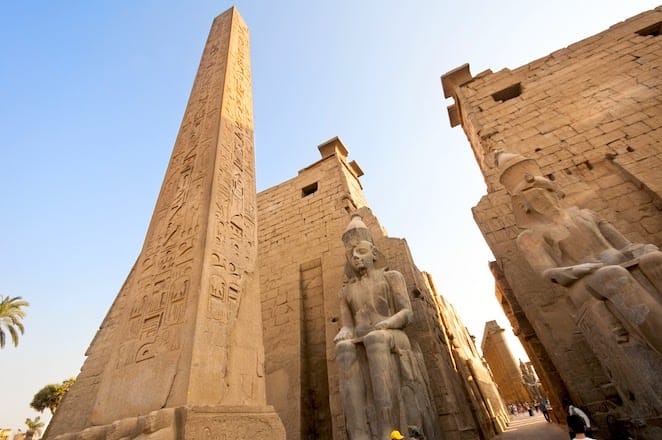 Upper Egypt and its Amazing Treasures
There are fantastic archaeological treasures all over Egypt, but Upper Egypt is definitely the place to look, and particularly if you are a first time visitor to Egypt. It is in this region of Egypt that you will find Egypt's most iconic ancient attractions like the Abu Simbel temple complex, Karnak Temple, Luxor Temple, Valley of Kings and so many more.
If you book one of our Egypt tours from Canada that includes a Nile cruise, you will visit all of the top sites in Aswan, Kom Ombo, Edfu, and Luxor. You will also have an expert guide accompanying you to these sites to make your Upper Egypt experience more rewarding than ever.
If you don't want to visit these sites by way of a Nile River cruise, you can also take a train from Cairo for an overnight trip to Aswan or Luxor. You can then book standalone Aswan tours or Luxor tours.

Design Your Custom Tour
Explore Egypt (and may we suggest Jordan) your way by selecting only the attractions you want to visit
Top Tips for Visiting Egypt from Canada
If you are feeling a bit apprehensive about travel to Egypt from Canada because of the vast culture difference, you need not be. Here are a few useful tips that help you to settle-in in no time at all.
Book Early, Save Big
Booking Egypt travel packages from Canada well in advance can save you a whole lot of money. Tour prices increase all the time, but by booking your tour week of preferably months in advance, you can avoid potential price increases. Naturally, this also depends on which travel company you use.
If you book a vacation package to Egypt from Canada through us, you can lock-in the price we quote you simply by paying the minimum deposit. Once your deposit has been received, the cost of your chosen tour package will not be affected by any future price increases.
Dressing for Egypt
Many people who are unfamiliar with Egypt believe they will have to dress very conservatively if/when they visit the country. Yes, it is true that Egyptians dress conservatively, but they don't expect tourists to do the same.
Women who choose to wear very revealing clothes may attract unwanted attention, but other than that, foreigners are free to dress any way they want. The only exception is when entering mosques. Women are required to cover their hair, neck and shoulders when entering a mosque. Men, on the other hand, should avoid wearing short pants and/or sleeveless tops inside mosques.
Drinking Water in Egypt
Under no circumstances should you drink tap water while you are in Egypt. In some hotels and on some cruise boats tap water is supposedly safe to drink, but we advise against doing so. Bottled water is cheap and plentiful. Our Egypt tours from Canada even include free bottled water during their tours and road trips.
Haggling
When you travel to Egypt from Canada you will no doubt find the concept of haggling to be totally alien to you. Many first time visitors even find it quite daunting, but, with a little bit of humor and a little bit of practice, haggling can be lots of fun as well. Cairo's famous Khan el Khalili Bazaar is a great place to get some haggling practice.
Religious and/or Political Discussions
Religion and politics are sensitive topics no matter where in the world you travel to. In Egypt, getting drawn in to religious and/or political debates can result in you getting yourself into trouble. Avoid discussing these topics in Egypt.
Tipping
Nobody is compelled to give tips in Egypt, but tips are greatly appreciated. When eating at restaurants, a service charge is typically included in your bill, but this money goes to the owner/s rather than to the waiters and/or waitresses who are often paid low wages, meaning that they have to rely on tips to supplement their income. The same applies to some staff you will encounter at hotels. 
At restaurants, we recommend giving a tip of around 10% of your bill if you have received good service. At hotels, just use your own discretion. For the purpose of tipping, it is best to keep some Egyptian Pounds on your person.
Top 10 Tourist Sites to Visit
Ten of Egypt's most amazing ancient treasures which every Canadian traveler should try to see while they are in the Land of the Pharaohs
Giza Pyramids and the Sphinx
All good Egypt tours from Canada should include a visit to the Great Pyramids of Giza and the Sphinx. What many people don't know, is the fact that visitors are actually allowed inside the pyramids, although it does cost a few dollars. Just imagine how it must feel to actually be standing inside one of the 7 Wonders of the World, and the only one still standing.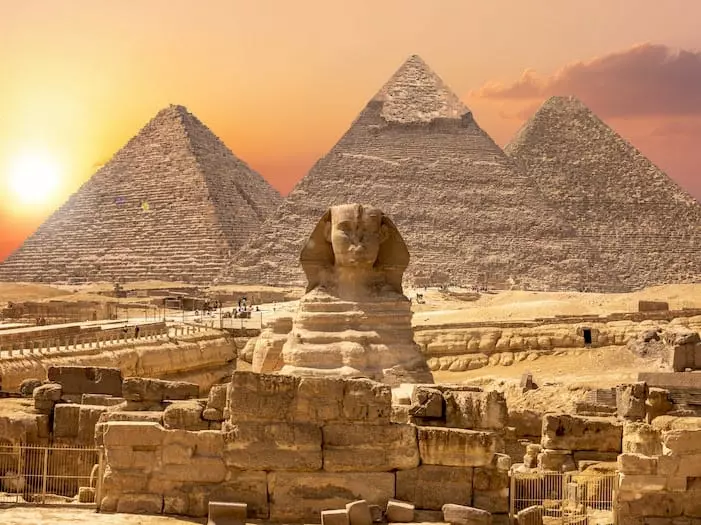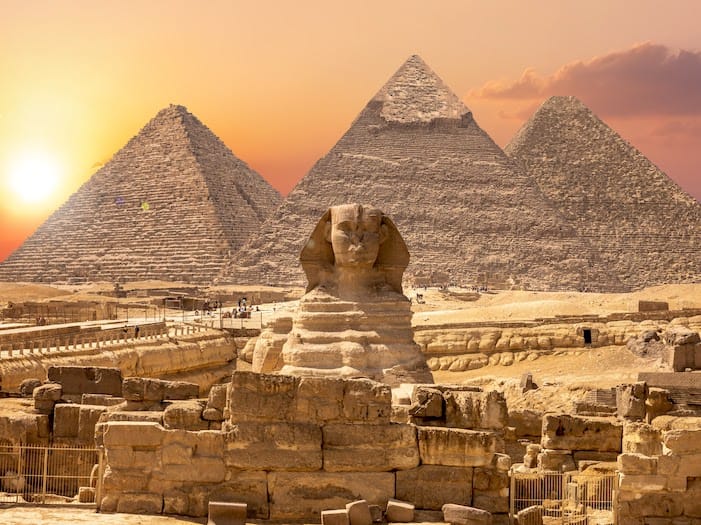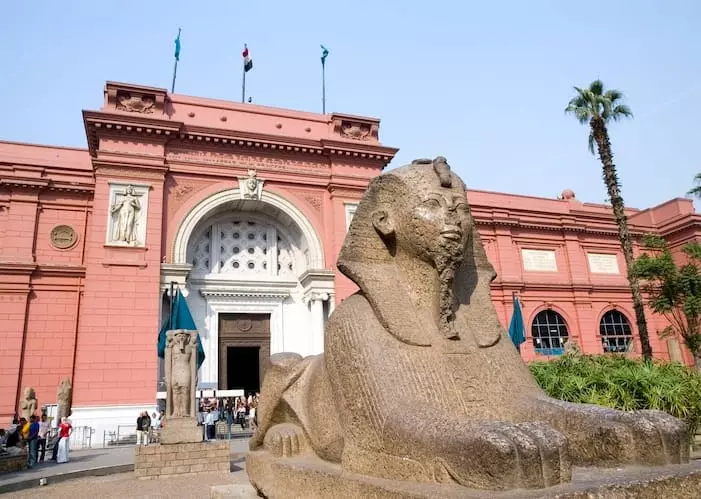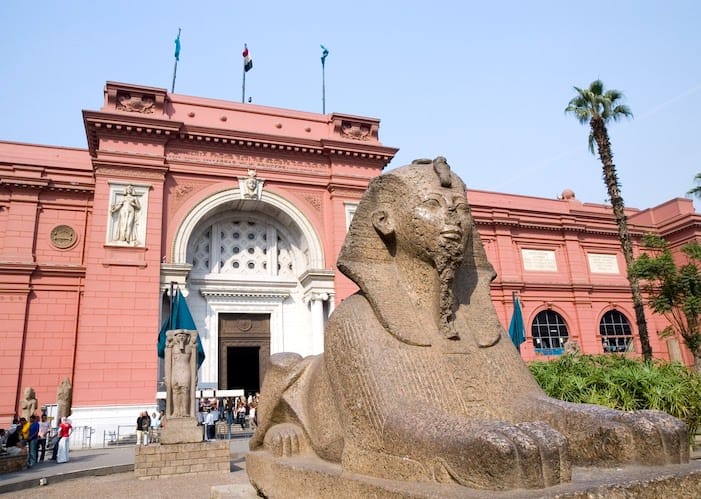 Museum of Egyptian Antiquities
The Egyptian Museum in Cairo is famous the world over. With more than 100,000 artifacts on display, the museum showcases more than 5,000 years of Ancient Egyptian history. Even now, after many artifacts were moved to the new Grand Egyptian Museum at Giza, this centrally located museum is still one of the best attractions in Cairo, and one which is featured in almost all of our Egypt tours from Canada.
Abu Simbel Temples of Ramses II
An ancient Egyptian masterpiece, these magnificent rock-hewn temples are well and truly beyond words. Several, but not all of our Egypt tours from Canada include a visit to the Abu Simbel Temples. We also often offer an optional Abu Simbel tour from Aswan. From a visual point of view, these two temples really steal the show.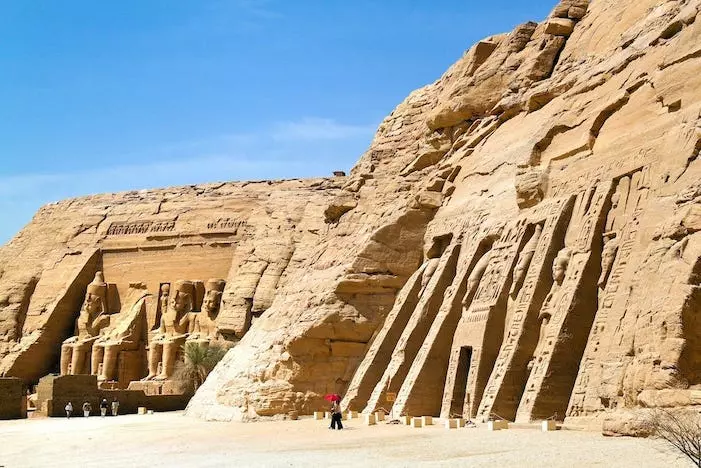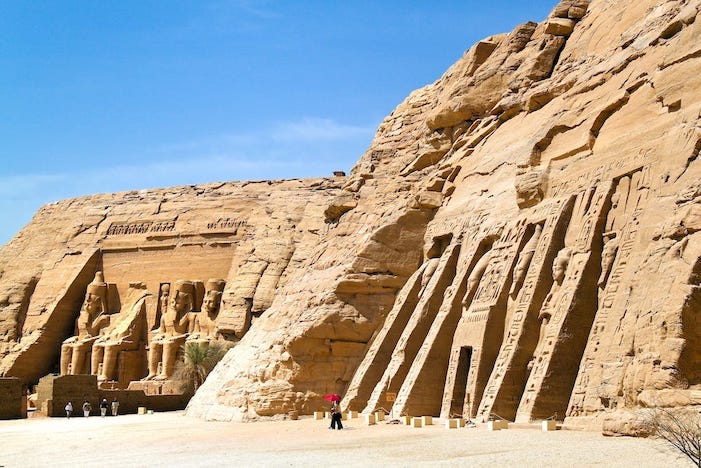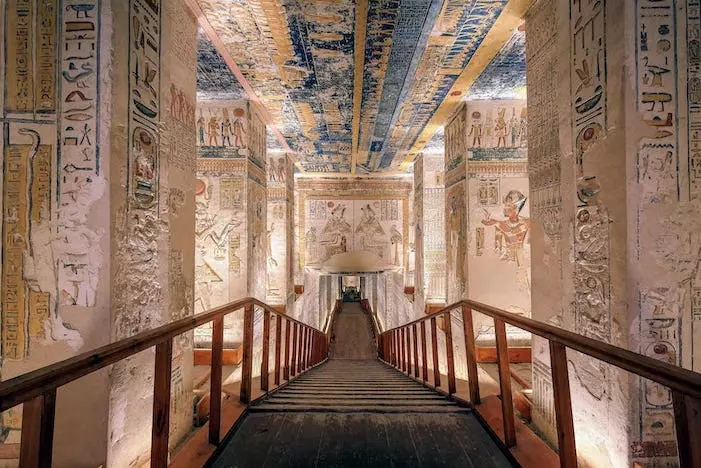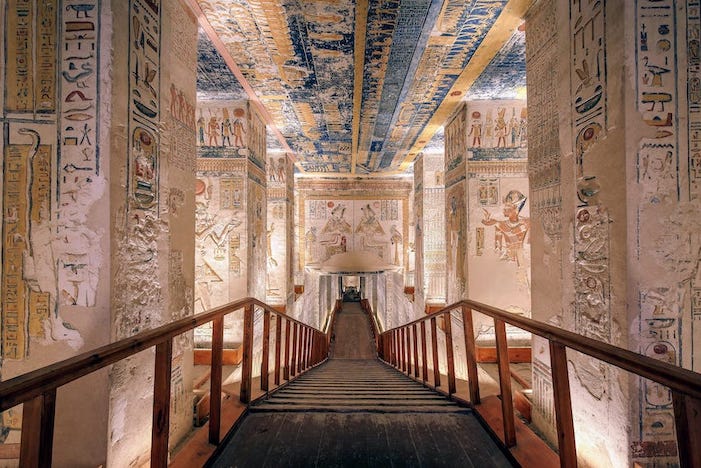 Valley of the Kings
Valley of the Kings is an ancient royal necropolis where pharaohs and other nobility were entombed during the New Kingdom era. This is where King Tutankhamun's tomb was discovered in the early 20th century. His tomb was still sealed and intact when it was discovered, while nearly all of the others were looted in antiquity. The tomb of Ramses VI is also at this site. Like the above mentioned tours, the Valley of Kings features in nearly all of our Egypt tour packages.
Karnak Temple
Karnak Temple is believed to be the biggest place of worship ever built by man. What originally started as a temple later grew into an actual temple city. This is because numerous pharaohs added to the site during their reign. As such, the end result was built over a period of more than 2,000 years. Located on the east bank of the Nile River near Luxor, Karnak Temple is the second-most visited ancient attraction in Egypt.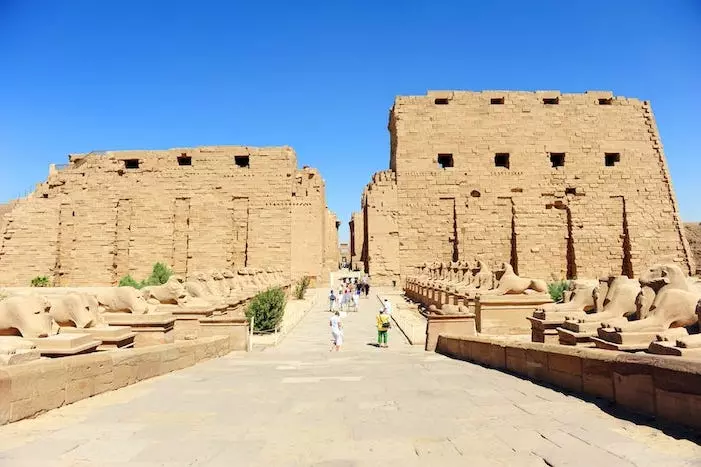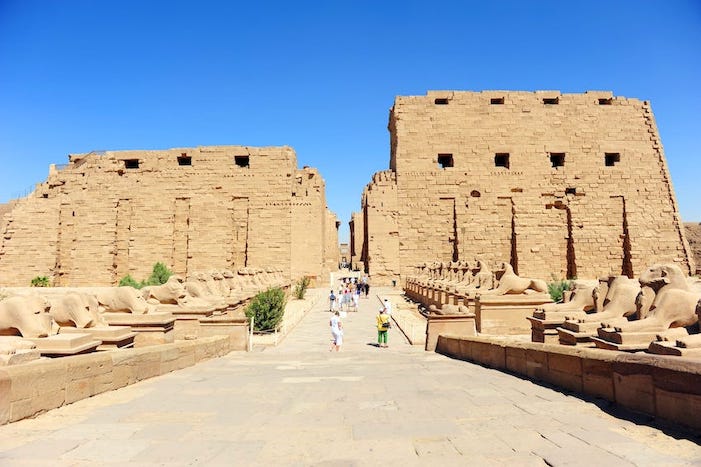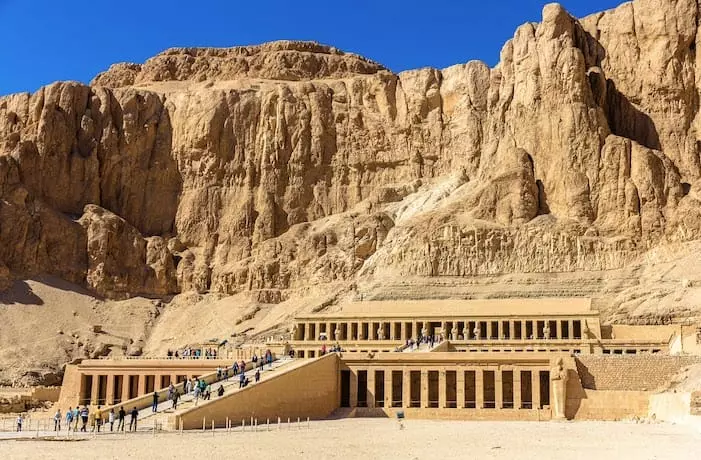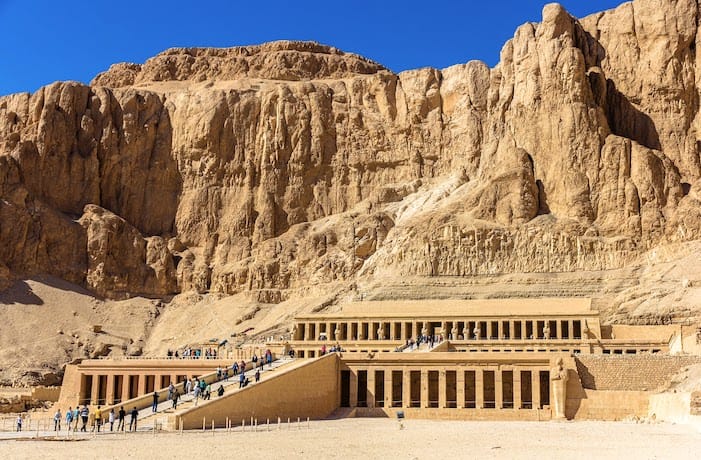 Queen Hatshepsut Temple
There is only one word for Queen Hatshepsut's mortuary temple – STRIKING! Located on the west bank of the Nile River near to the Valley of Kings necropolis, Hatshepsut's temple is believed to be one of the grandest and finest temples ever built by the Ancient Egyptians. It is also considered one of the Incomparable Ancient Monuments of Egypt. As with the other site mentioned in this list, Hatshepsut temple is featured in nearly all of our Egypt tours from Canada.
Luxor Temple
Located on the east bank of the Nile River near modern-day Luxor, this ancient marvel is considered to be one of the world's most breathtaking open-air museums. This is another site that also features in almost all of our Egypt tours from Canada. If you have spare time in the evening, we highly recommend visiting the site a second time for a stunning Sound and Lights Show.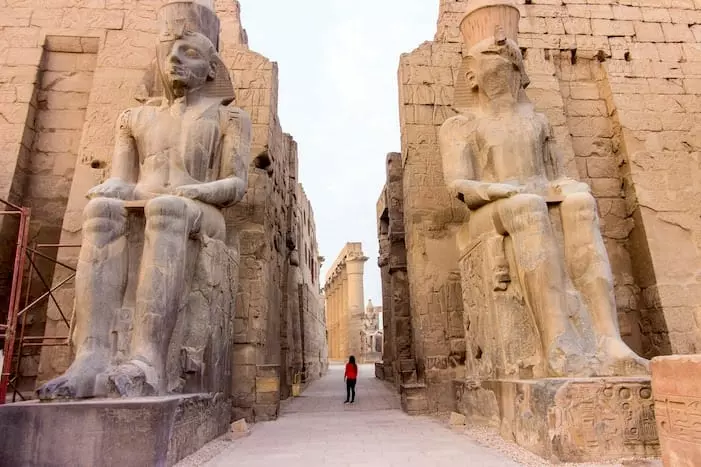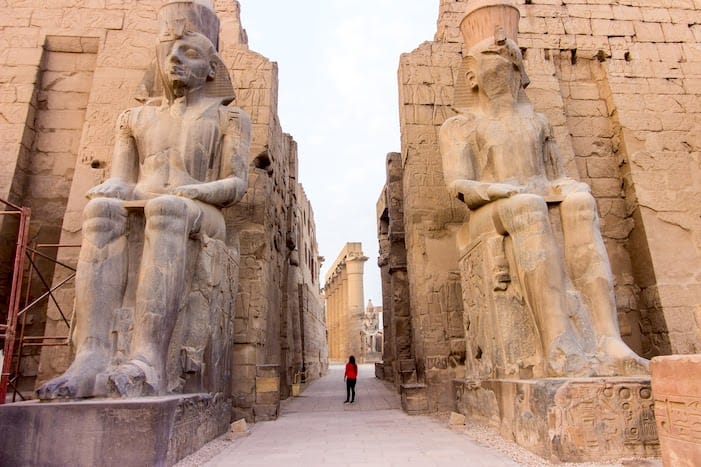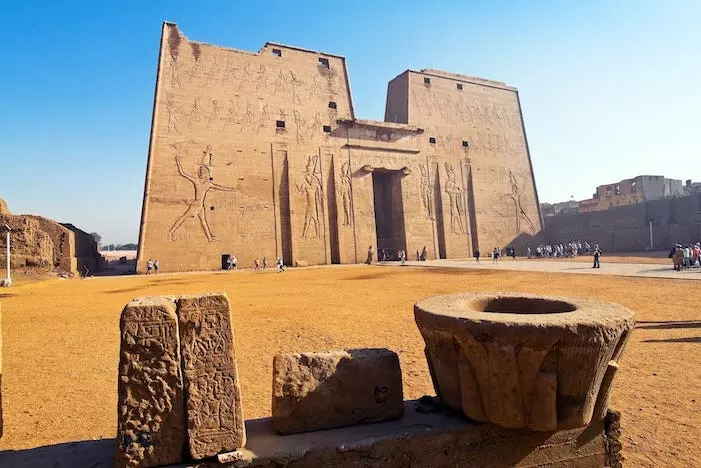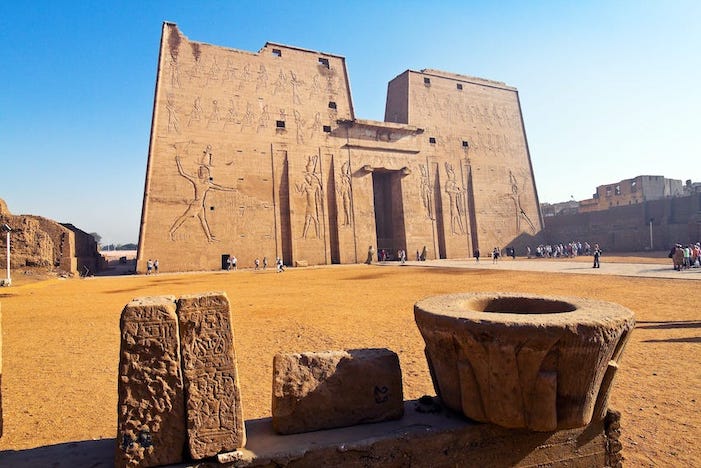 Temple of Horus
The Temple of Horus, which is also known as Edfu Temple, is featured in nearly every Nile cruise tour and in all of our own Nile cruise holiday packages. Dedicated to Horus the falcon-headed god, this is Egypt's best-preserved ancient temple. Its remarkable state of preservation is a result of the entire temple being buried beneath the desert sands for more than 2,000.
Temple of Kom Ombo
Kom Ombo Temple also features in just about every Nile cruise package. This is one of the most unique temple complexes ever built by the ancient Egyptians. It is essentially two temples in one. One was dedicated to Sobek the crocodile god, and the other one was dedicated to Horus the falcon-headed god.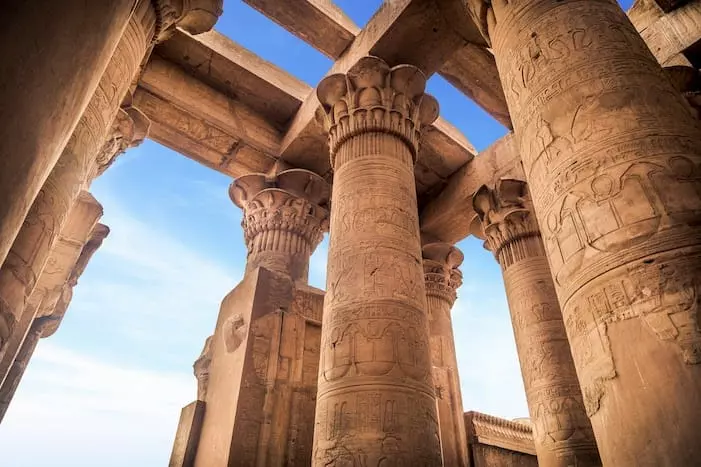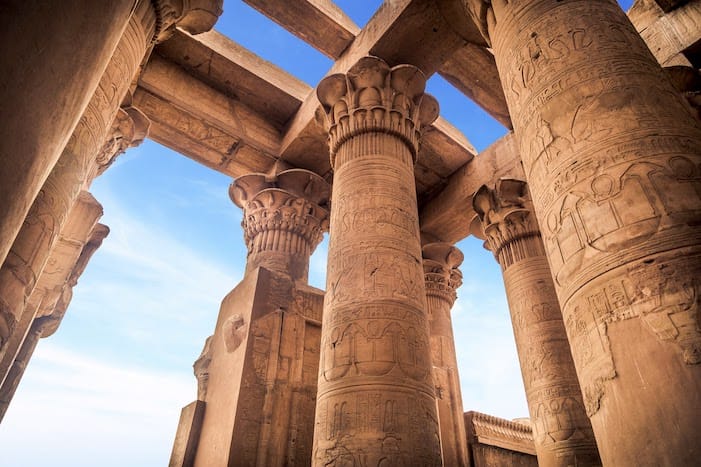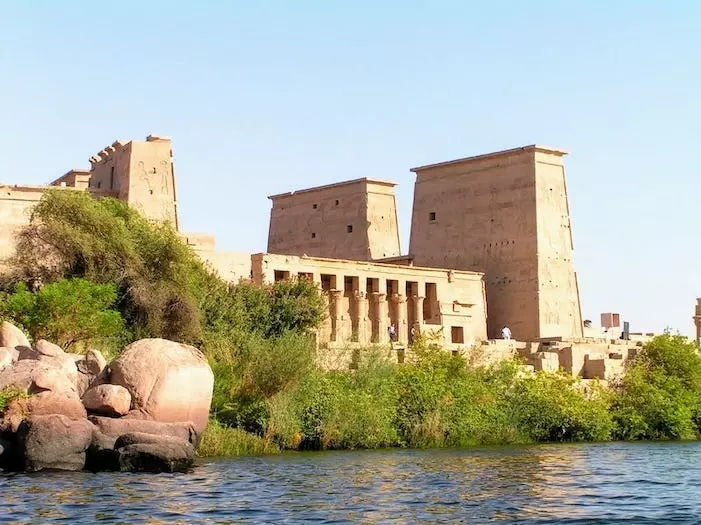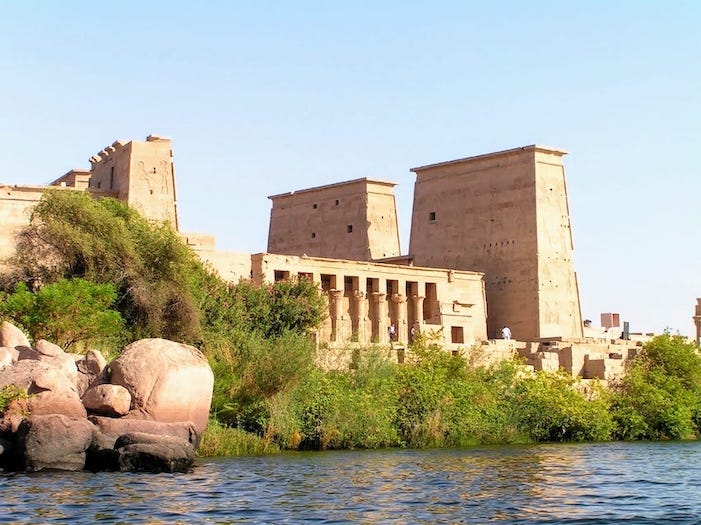 Philae Temple
This is another ancient temple that features in nearly all of Nile cruise holiday packages. If you book one of our Egypt tours from Canada that include a Nile cruise package, a visit to Philae Temple is guaranteed. This amazingly well-preserved temple was dedicated to two different goddesses, Hathor and Isis. Amazingly, the temple was moved in entirety to its current location. This was done to save it from the flooding of Lake Nasser when the Aswan High was built.
FAQ: Egypt Travel from Canada
Is it safe to travel to Egypt from Canada?
Yes, thousands of people book and enjoy Egypt tours from Canada without experiencing any problems. However, we do recommend booking a travel package through a reputable tour operator.
Is it safe to travel to Egypt as a woman?
Yes, Egypt is safe for female travelers, although some discretion and common sense is advised. It's also best to avoid quiet and dimly lit areas at night, especially when traveling alone.
Is it safe to travel to Egypt's pyramids?
Yes, Egypt's major tourist attractions are all considered to be safe to visit. Nonetheless, one should always remain vigilant. If you notice anything unusual, you should report it straight away.
Is it safe to visit Cairo, Egypt?
Yes, Cairo is a safe place for tourists to visit. However, we recommend that you stay alert and aware of your surrounds, especially in very crowded areas.
Is it safe to travel to Alexandria Egypt?
Yes, Alexandria is probably one of the safest cities in Egypt. This is not to say that Alexandria has no crime. If Alexandria had more tourist attractions, it would be a real tourist magnet. 
Do I need a Covid test to enter Egypt?
At the time of writing, there were no Covid test requirements for full vaccinated visitors. Unvaccinated travelers must have a Covid test no more than 72 hours prior to landing in Egypt.
What should I avoid in Egypt?
When traveling in Egypt, avoid getting involved in debates relating to politics and/or religion. Although very rare these days, protests and/or demonstrations are also best avoided.
How much is it to travel to Egypt?
The cost of Egypt tours from Canada can vary drastically depending on your travel style. For a high quality Egypt tour itinerary with a Nile cruise you can expect prices starting at around US$1,600.
Is Egypt expensive to visit?
No, most people would agree that Egypt is not an expensive country to visit. However, if you only want to wine and dine in the finest establishments, you vacation is not going to be cheap.
When is the best time to visit Egypt?
December and January are the liveliest and coolest months to visit, but also the most expensive time to visit because this is the peak of the high season in Egypt.
Is March a good time to visit Egypt?
Yes, March is a very good month for visiting. High season prices are still in place, but there will be less tourists than you would see in December or January. The weather will still be mild as well.
Is May a good time to visit Egypt?
By May, temperatures have climbed but the heat is not unbearable. May also marks the beginning of the low season, so your vacation is going to cost less than it would during the high season.
Is November a good time to visit Egypt?
November is a fantastic time to visit because the weather is wonderful and the main influx of tourists has not yet begun. It is the high season, so expect to pay more for things like accommodation.
Best time to visit Egypt and Jordan?
The best time to visit Egypt and Jordan is from October to April. However, if you want to avoid crowds of tourists, then you should avoid visiting in December or January.
How many days do you need in Egypt?
While you can find really good tours and Nile cruises that last less than 7 or 8 day, if you want a more immersive holiday experience you should set aside at least 12 to 14 days for your vacation.
What to visit in Cairo, Egypt?
The Giza Pyramids and Sphinx are the most visited attraction in Cairo, but there are other excellent attractions as well, including the Egyptian Museum and the famous Khan el Khalili Bazaar.
Do I need a visa to visit Egypt from Canada?
Yes, you will need a valid passport and a valid visa for visiting Egypt. However, if you travel on a Canadian passport you can simply get a visa on arrival at the airport when you arrive.
Can you drink alcohol in Egypt?
Yes, any and all non-Muslims can drink alcohol in Egypt. However, apart from beers and wine, most alcohol is expensive and mostly only available at larger restaurants and bars.
Do they speak English in Egypt?
In the large cities and areas frequented by tourists, most Egyptians know at least some English. Not many Egyptians are fluent in English. This is one good reason to have a tour guide with you.
If you have any questions which have not been addressed here, please visit our general FAQ or contact us and we will be happy to help.

Plan Your Egypt Trip
Our customer service personnel are on call 24/7 to offer assistance and to answer any questions you may have about visiting Egypt.