EGYPT TOURS PACKAGES FROM USA 2023
Find out everything you need to know about traveling to Egypt right here, or even book one of our epic Egypt tours packages from USA today and experience the best of Egypt in the lap of luxury.
THE BEST OF EGYPT YOUR WAY
Build your own tour or select one of our private Egypt tours from USA.
Private guide & driver
Personal expert tour guide and air-conditioned modern vehicle with chaffeur.
We speak your language
Our online tour consultants and expert tour guides are fluent in English.
Expert guided tours to Egypt from USA
– for travellers who want the Egypt tour of their dreams
Make memories that last a lifetime
– travel safely and securely with your own guide and driver and make memories that last a lifetime
200,000 dream vacations
We are proud to have provided half a million people with the tour of their life.
Traveler's Choice 2020 & 2021
Awarded TripAdvisor's Traveler's Choice in both 2020 and 2021. So expect always the best!
We are always at your service
We are ready to answer your questions and help with travel arrangements 24/7. 
The Egypt tour package of your dreams
– travel in safety and comfort
Most people have a trip to Egypt on their bucket list. Still, they are worried about travelling to a country with a foreign culture and a language they cannot understand.
At Egypt and Jordan Tours by Egypt Tours Plus, you get your very own guide, who speaks a language you know and a personal driver who drives you around in a modern, comfortable vehicle from the moment you arrive until the moment you leave.
This way, you get the Egypt tour you always dreamt of and create memories for life.
Click the button below and create the perfect dream tour of Egypt, and make memories for life of all the exciting places you heard about in school and have seen on movies and TV.
Egypt Tours Packages from USA
The Ultimate Guide for Traveling to Egypt from USA
Find All the Information You Need Right Here
Travel packages to Egypt from USA provide an excellent alternative to independent travel. Traveling through Egypt independently, either on your own or with friends or family can be a wonderfully rewarding experience, but it's not for everyone.
Whether you decide to visit Egypt independently, or whether you decide to book an Egypt tour package, you can enjoy an unforgettable experience. 
Continue reading to find all the information you need to plan a perfect trip to Egypt.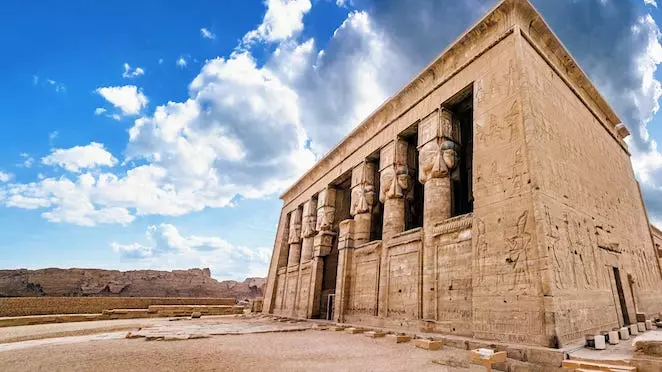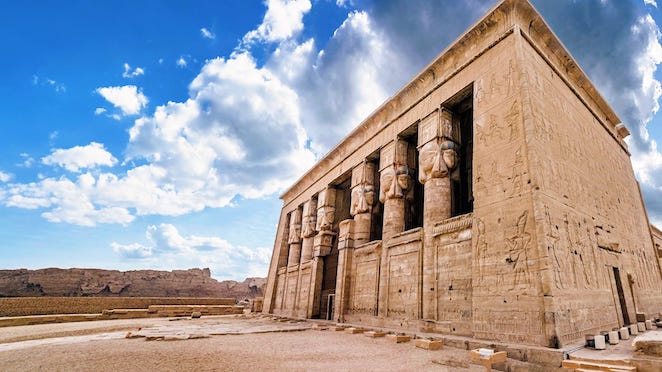 Passport and Visa Entry Requirements for Egypt
If you are going to be traveling on an American passport, you have absolutely nothing to worry about in terms of obtaining a tourist visa. In fact, you can arrive at Cairo International Airport with nothing more than a valid passport.
US citizens and those traveling on an American passport are able to obtain a Visa-on-Arrival at Cairo Airport when they arrive. You can also get a visa on arrival at Sharm El Sheikh International Airport or any other international port of entry in the country.
While American passport holders are not subject to any specific visa requirements, you may or may not be asked to show proof of onward travel, such as your return flight home. Your valid passport must also have at least 6 months validity remaining. This should be from your planned date of departure from Egypt.
Egyptian e-Visa
In addition to the options already mentioned, American passport holders are also able to apply for an online e-Visa prior to traveling to Egypt. You simply visit the official Egypt E-Visa portal, set up an account, apply for your visa, and then pay the necessary fee. Once your application has been approved your visa will be available for downloading and printing.
At the time of writing, a single entry visa cost $25 while a multiple entry visa cost $60. The Egypt Visa-on-Arrival prices are the same as the e-Visa prices.
Tour Operators and Visas
In some cases, tour operators may be able to provide you with your visa. This is done by applying for an E-visa on your behalf. Most of our own luxury Egypt tours packages from USA include this service. However, most operators don't offer this service.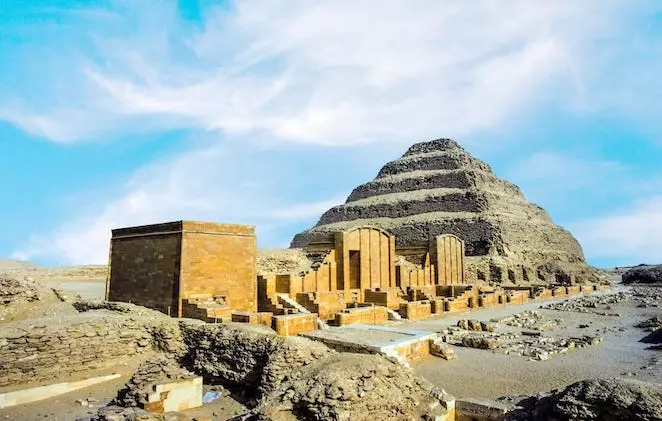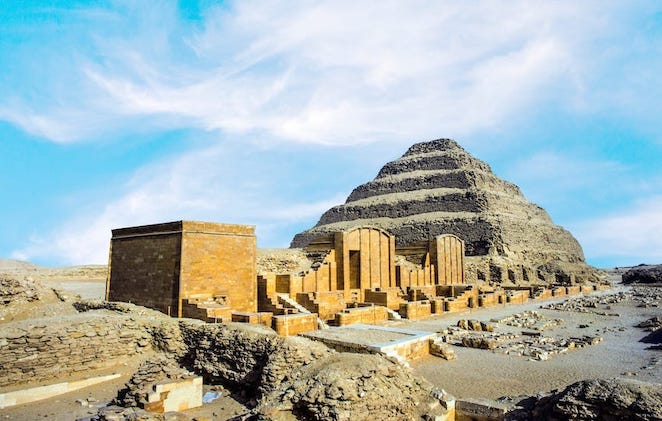 International Flights to and from Egypt
Most Egypt tours packages from USA don't include air travel to and from Egypt. However, some of the bigger and more well-established Egypt tour operators can and will include international flights in your chosen tour package if you request it.
Depending on which travel agency you use, you may also be able to request two price quotes: one that includes international flights, and one that doesn't. 
Domestic Flights
Nearly all Egypt travel packages from USA involve spending a few days in Cairo to see attractions like the legendary Giza Pyramids, the Egyptian Museum, and the bustling Khan el Khalili bazaar. After spending a few days in Cairo, most visitors then travel to places like Aswan and/or Luxor, very often to board a Nile River cruise.
Most good quality vacation packages include domestic flights if their itineraries involve you having to travel between major cities. The cost of such flights should be included in the price of your preferred tour.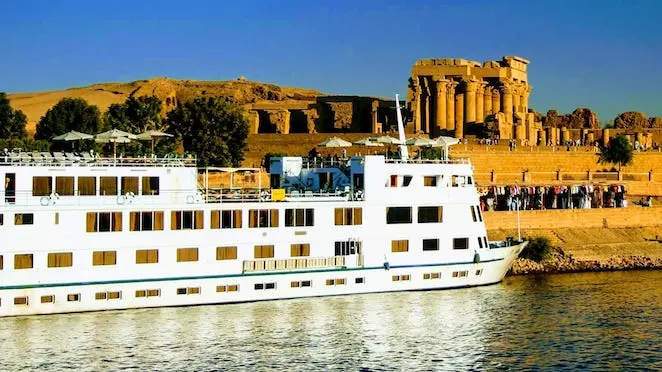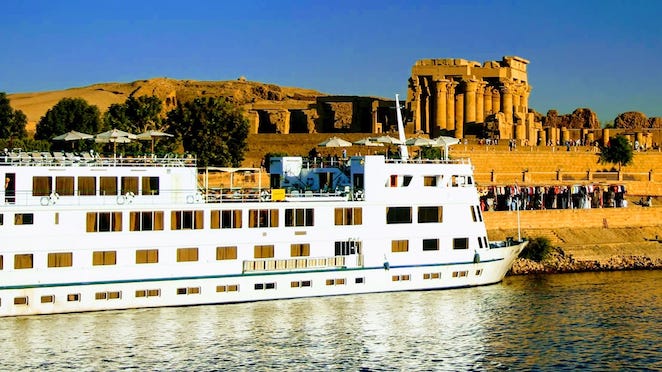 Save Money, Time and Hassle
At Egypt and Jordan Tours by Egypt Tours Plus, we are proud to have provided more than 500,000 travellers with the dream tour of their lives to Egypt and all the exciting countries that lie just around it.
At the same time, we also know that many find it difficult to travel to a country with a foreign culture and language.
That is why we have created an arrangement with local guides – who speak the language you do – and a personal driver who drives you around from the moment you arrive at the airport until you leave Egypt again.
Both guide and driver know about and can take you safely to all the famous places – and all those fantastic places that many other tourists never find.
This gives you a totally unique and exciting trip that you will remember for the rest of your life.
So, if you want the perfect, safe and secure dream trip to Egypt, where you see it all, you just need to:
Create your dream tour

with our easy to use trip builder

Travel safely and securely

with your own guide and driver

Make memories that last

a lifetime and tick off your bucket list
Touch Down in the Land of Pharaohs
Most immersive Egypt tour packages from USA begin in Cairo, the bustling Egyptian capital. Cairo is one of the most densely populated cities in the world. It is also notorious for its traffic congestion. Despite all this, Cairo can be a fascinating city to visit. It's also home to one of the world's most famous archaeological sites, the Giza necropolis. This is where you will find the ancient Pyramids of Giza and the Sphinx, a massive rock statue of a lion with a human head.
Cairo is also home to the famous Egyptian Museum, and the all-new Grand Egyptian Museum at Giza. While it is entirely possible to explore Cairo on your own, doing so can be quite challenging. If you want to avoid all the problems and challenges which most independent travelers face in Cairo, we strongly recommend that you book a Cairo tour package. Alternatively, look for tours to Egypt from USA that include one or more professionally guided tours in Cairo.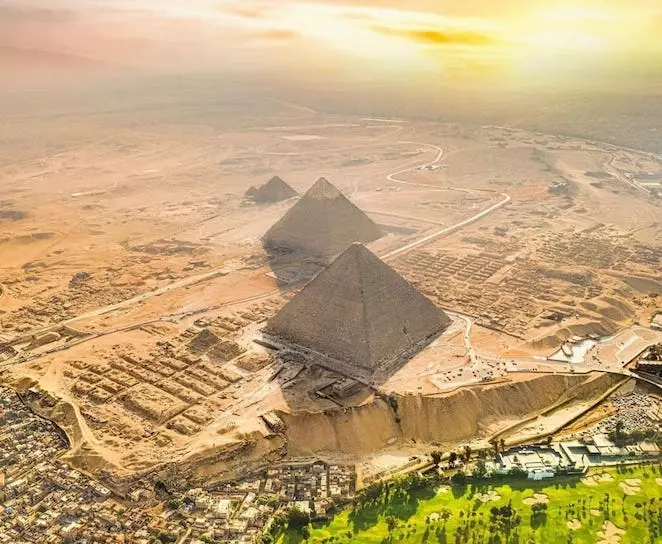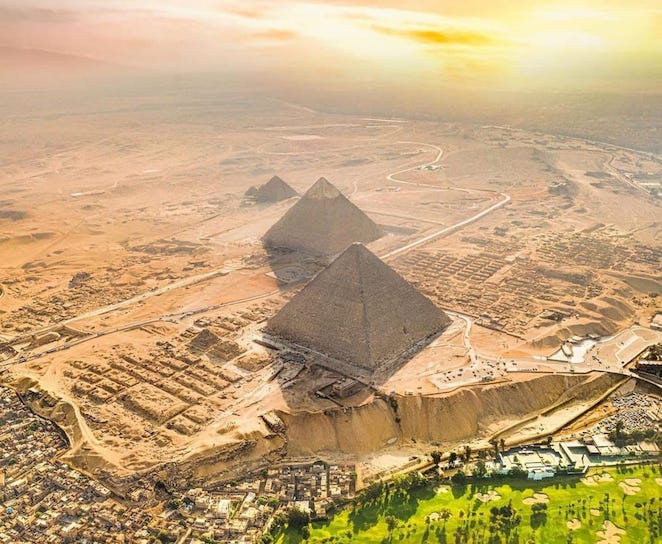 Cairo and Upper Egypt
Nearly all international tourists head for Upper Egypt after spending two or three days in Cairo. Many independent travelers choose to skip Aswan, and head straight to Luxor instead. This is because Luxor offers more than Aswan does in terms of ancient sites.
Aswan's two major historical sites include Philae Temple and the Unfinished Obelisk. Luxor, on the other hand, has the Valley of Kings, Hatshepsut Temple, Karnak Temple, Luxor Temple, the Colossi of Memnon and more.
If you are serious about ancient Egyptian history, Luxor is definitely not going to disappoint you. The banks of the Nile River between Luxor & Aswan are home to several of Egypt's most breathtaking ancient tourist attractions. In our professional opinion, the best way to visit and enjoy these tourist attractions is by way of a Nile cruise from Aswan to Luxor or from Luxor to Aswan.
Our own Cairo & Nile Cruise packages are amongst our most popular Egypt tours packages from USA, with many visitors describing them as being a perfect vacation in Egypt.
The Magic of a Nile River Cruise
It is often said that the best way to experience Egypt's ancient history is by way of a Nile River cruise. A cruise on the Nile is truly a magical experience. Besides the cruise itself, a good Nile River cruise itinerary will include expert guided tours in Aswan, Edfu, Kom Ombo and Luxor. Some will also include a tour to the breathtaking rock-hewn temples of Ramses II at Abu Simbel. You can visit all these sites by land but it's just not the same.
During these cruise excursions you won't have your own private guide. Instead, these are typically guided small group tours.
Felucca River Cruises
Feluccas are small traditional sail boats that are still widely used on the Nile River in Egypt. With the arrival of mass tourism, many Felucca owners upgraded and/or modified their Feluccas to make them tourist friendly for the sake of leisure cruises on the Nile. Felucca cruises soon became popular, especially among backpackers and those traveling on a very tight budget.
While Felucca cruises can be great fun, don't expect any luxury and/or modern amenities. On the other hand, if you are looking for a traditional bare bones experience, then this might be an option worth considering. None of our Egypt tour packages include in a Felucca cruise. However, since all of our Egypt tours packages from USA are fully customizable, a Felucca cruise can always be added to any one of your vacation packages.
Nile Dahabiya Cruises
Dahabiyas are traditional river yachts that are instantly recognizable by their two large sails, one at the front and one at the rear. While the basic design has remained unchanged for thousands of years, today's tourist Dahabiyas have been upgraded and modified for the sake of tourism. Most of the better Dahabiyas have no more than about 8 to 10 cabins, all of which have been tastefully decorated to provide for a luxurious cruise on the Nile.
Because of their limited passenger capacity, a Dahabiya cruise has a far more personal feel to it compared to a cruise on the much bigger tourist boats which can carry several hundred passengers. While you won't find gyms, discos or spa therapy rooms on a Dahabiya, they all have everything needed to ensure that your trip along the Nile will be a dream trip which you will cherish forever.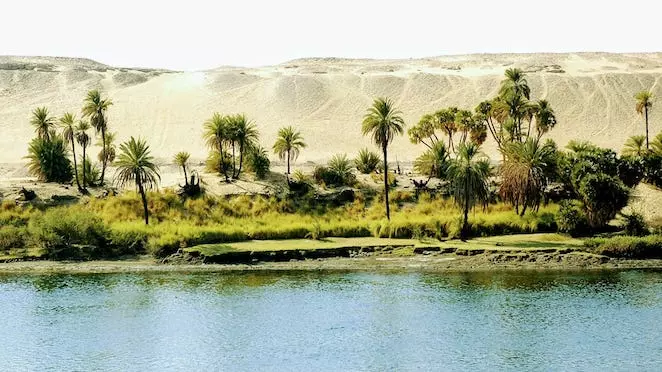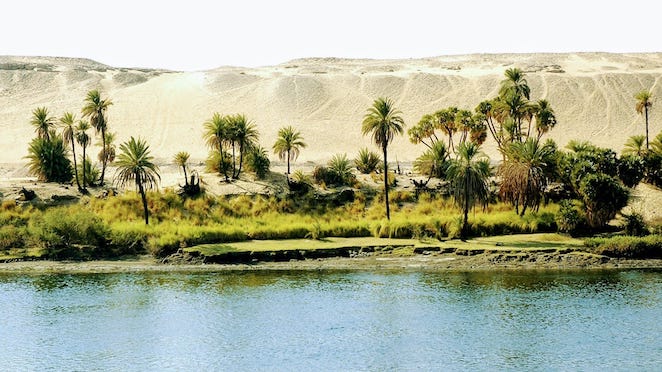 Nile Cruise Ships
These are the large tourist boats which most people are familiar with. Many of them, and all of those which feature in our Egypt tours packages from USA, are literally like floating hotels. These are the most popular Nile River cruises. 
Most, but not all of these cruise ships have a 5-star rating and have the same sort of amenities that one would expect to find at any good hotel. Nile cruises on these vessels are also surprisingly affordable.
A 5-Star Nile cruise with full board typically costs less than staying at a four or five star hotel on a bed and breakfast only basis. Not only do you save money, but you also get to enjoy professionally guided tours to several of Egypt's top ancient attractions during your cruise.

Design Your Custom Tour
Explore Egypt (and may we suggest Jordan) your way by selecting only the attractions you want to visit
Travel Tips and Advice for Visiting Egypt from USA
While Egypt is generally a very easy country to visit and explore, there are a few things you should be aware of before you travel to the country
Haggling
Haggling for the best possible deal or bargain is a way of life in Egypt. As a person traveling to Egypt from America, haggling may seem alien to you. It may even make you feel a bit uncomfortable at first, but the more time you spend in the country, the more accustomed you will become to haggling. As many tourists have discovered, haggling can actually be great fun once you get the hang of it.
Dress Code
Tourists are free to dress any way they want to dress. However, when entering mosques, women are required to cover their hair and shoulders, and if they are wearing a dress, it should reach their knees or just below their knees. Men should also avoid wearing sleeveless tops when visiting mosques.
Public nudity is not permitted in Egypt. While may see some women bathing topless on some cruise ships or on beaches at Hurghada and Sharm El Sheikh, it is actually against the law.
Booking Tours in Advance
The cost of Egypt tours packages from USA can and do increase quite often. By booking your tour well in advance, you can shield yourself again price hikes. For example, if you book a tour package through us, once we have received your deposit any future price increase won't affect you. The cost of your chosen tour will remain the same as it was on the day you paid your deposit.
Water
From the moment you arrive in the country, only drink bottled water. Tap water in Egypt is not safe to drink. Some hotels and cruise ships may have signs up saying their tap water is safe to drink, but we strongly advise against doing so. Bottled water in Egypt is cheap and plentiful, so there really is no reason for anyone to risk getting sick. We even include free bottled water in all of our Egypt tours from USA.
Tipping
Tipping is not mandatory in Egypt, but it is always very much appreciated. At most restaurants, for example, a service fee is included in the cost of your meal but this money goes to the restaurant rather than to the waiters or waitresses. Many of these people earn very low wages and rely heavily on tips. As a general rule, we recommend giving a tip for good service at hotels, restaurants, etc.
Politics and Religion
Out of respect, and also to avoid unnecessary problems, we recommend against getting drawn into discussions and/or debates regarding politics and religion. While most Egyptians are notoriously friendly and welcoming, politics and religion are sensitive topics. Under no circumstances should you ever insult Islam or any other religion for that matter.
Top 10 Tourist Attractions
10 archaeological treasures which every American visitor should try to see while they are in Egypt
Pyramids of Giza
The Giza necropolis is typically the first site tourists visit when they arrive in Egypt. The three large pyramids of Giza and the Sphinx are known all around the world. The largest of the three pyramids is also one of the 7 Wonders of the World, and the only one that is still standing. The great news is you can even go inside the pyramids if you want to, although it does involve buying additional tickets.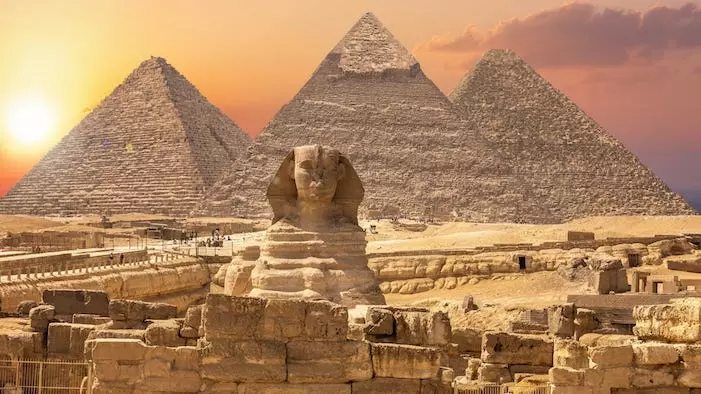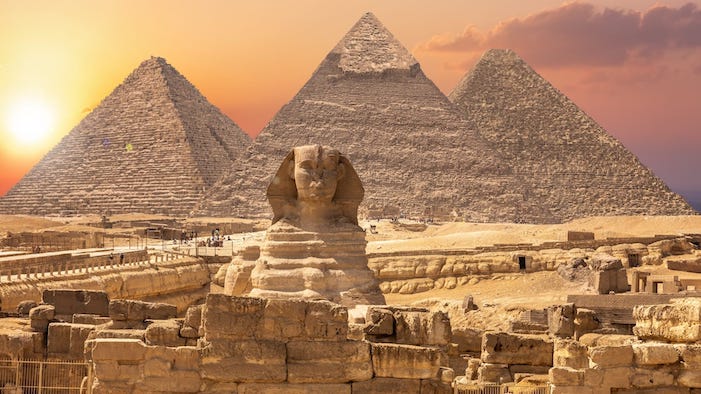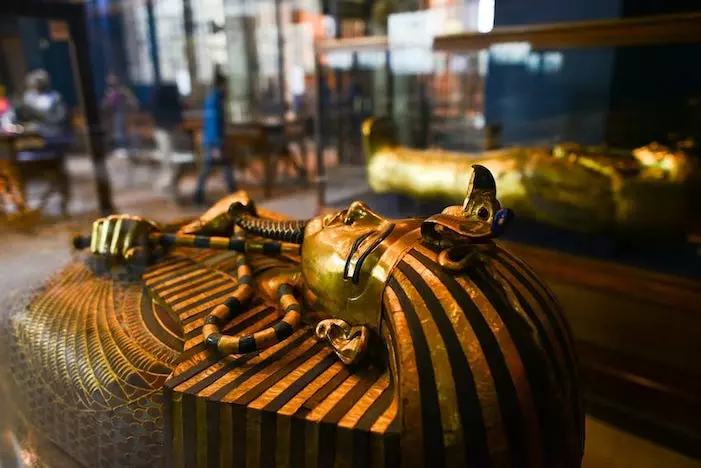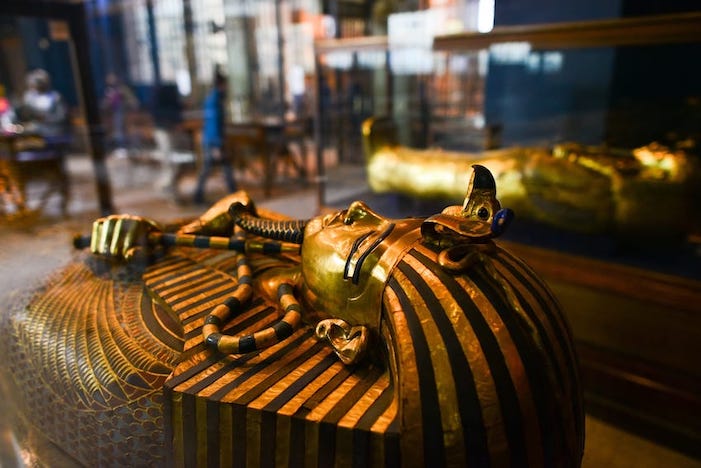 Museum of Egyptian Antiquities
Also known as the Egyptian Museum or the Cairo Museum, this world famous museum showcases more than 5,000 years of Egyptian history. It one of Egypt's most visited attractions and the second-most visited attraction in Cairo. However, this is likely to change following the opening of the all-new Grand Egyptian Museum located near the Giza Pyramids.
Abu Simbel Temples
The Abu Simbel Temples are two gigantic rock-hewn temples that were constructed during the reign of Pharaoh Ramses II. These temples are the second-most instantly recognizable site in Egypt, second only to the Giza Pyramids.
Because these magnificent temples are about a 4-hour drive from Aswan, you won't find this site featured in all of our pre-packaged Egypt tours packages from USA. However, several of our travel packages leave room for optional tours to the site. If you don't mind the drive from Aswan to Abu Simbel, then we cannot recommend this site highly enough.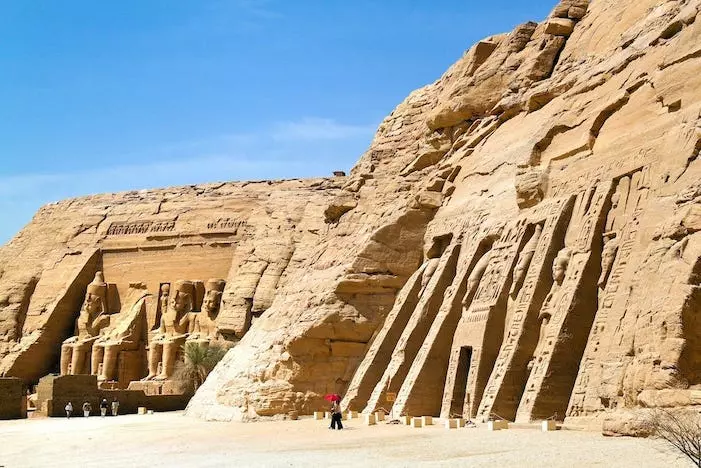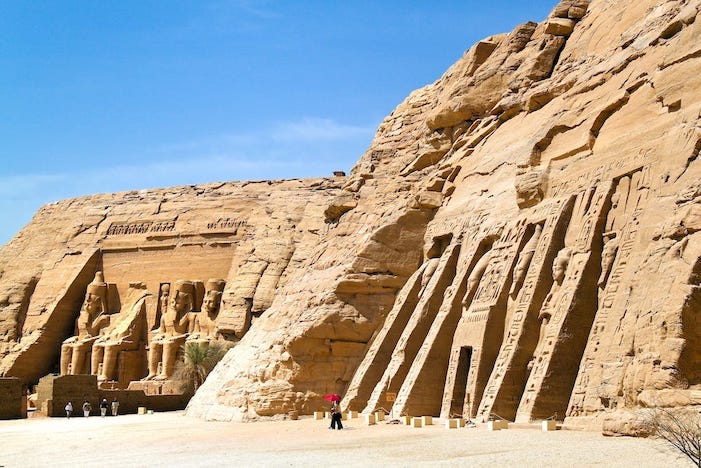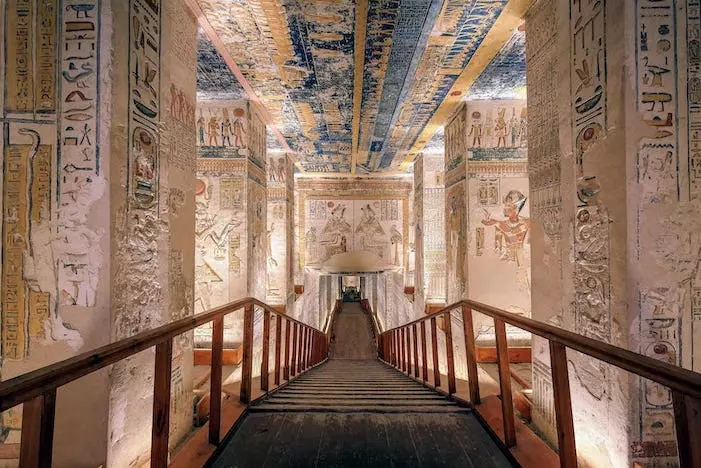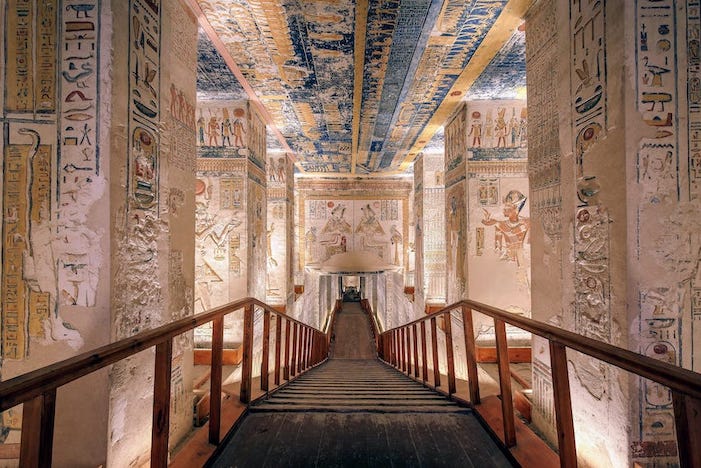 Valley of Kings
Valley of Kings is an ancient royal necropolis located on the west bank of the Nile River near modern-day Luxor. The site is home to more than 60 tombs, including the tomb of Ramses VI and the tomb of Tutankhamun. Nearly all good quality Egypt tours packages from USA visit to this site, along with admission tickets for some of the tombs.
Karnak Temple
Located on the east bank of the Nile River near modern-day Luxor, the Karnak temple complex grew continuously over a period of more than 2,000 years. It is believed to be the biggest place of worship ever built by mankind. Today, only the ruins remain, but there is still so much to see at the site. In fact, it is the second-most visited ancient monument in Egypt.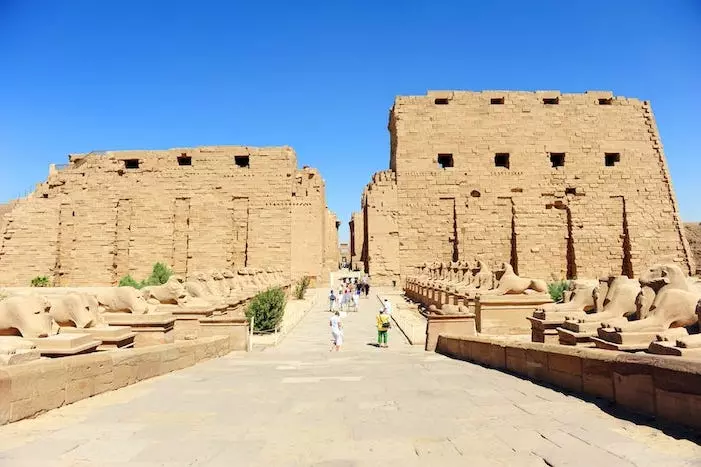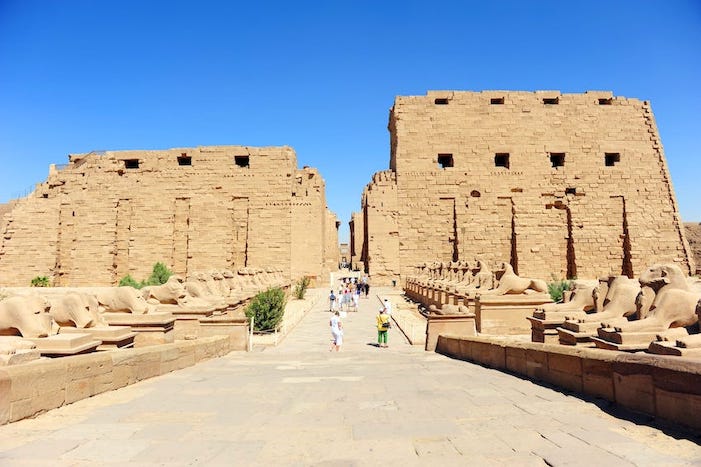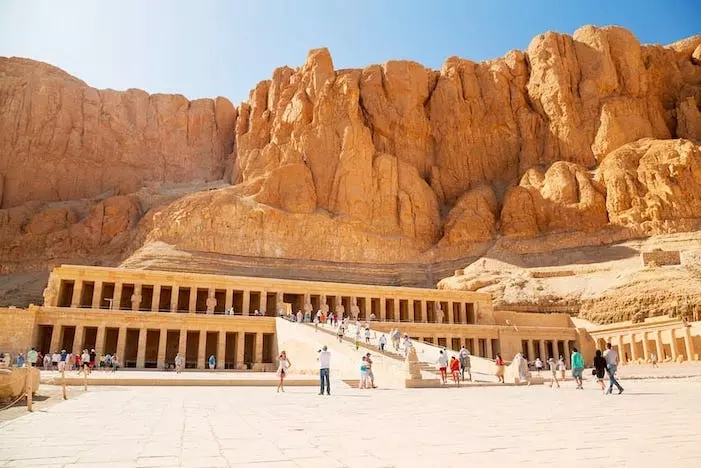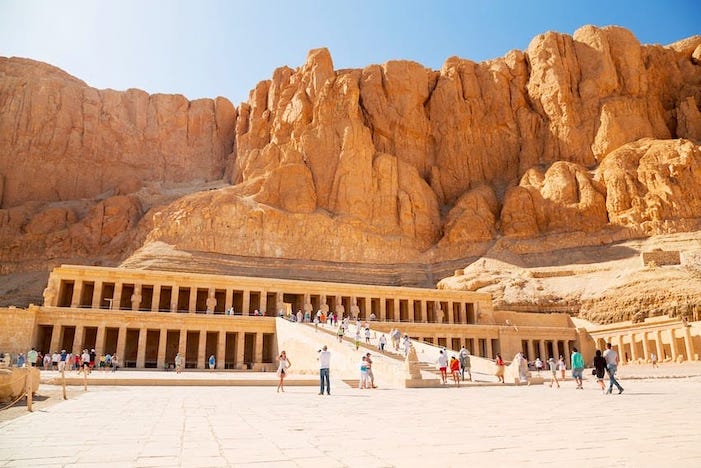 Hatshepsut Temple
Located close to the necropolis, Hatshepsut Temple is believed to have been one of the grandest temples ever built in ancient Egypt. This magnificent terraced structure was built by Queen Hatshepsut, Egypt's only true Egyptian female ruler. Today it is considered to be one of Egypt's "Incomparable Ancient Monuments." As with the above mentioned attractions, Hatshepsut Temple features in many of our Egypt tours packages from USA.
Luxor Temple
If you book a Luxor tour or any Egypt tour package from USA that includes sightseeing in Luxor, a visit to Luxor Temple is almost guaranteed. It also features in most good Nile cruise itineraries. Many visitors also choose the visit the site a second time in the evening to enjoy a spectacular Sound & Lights show, which to some extent is even more impressive than the Giza Pyramids Sound and Lights show.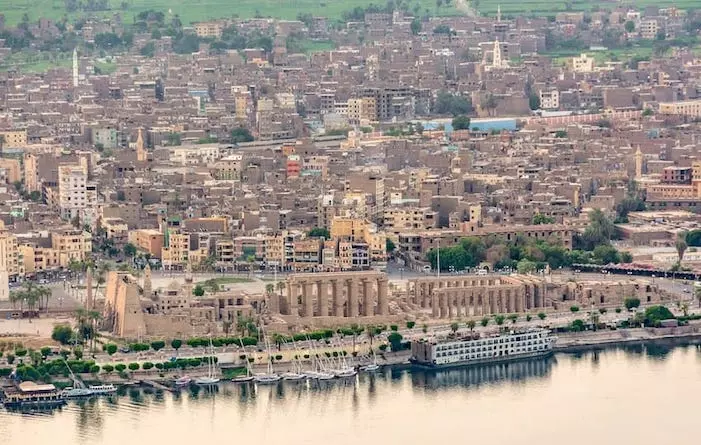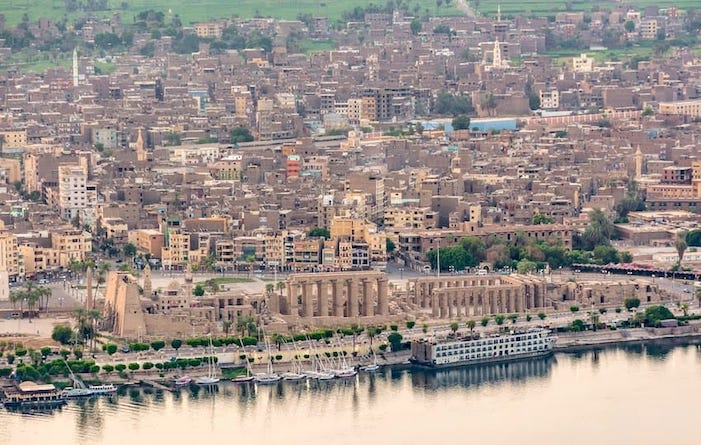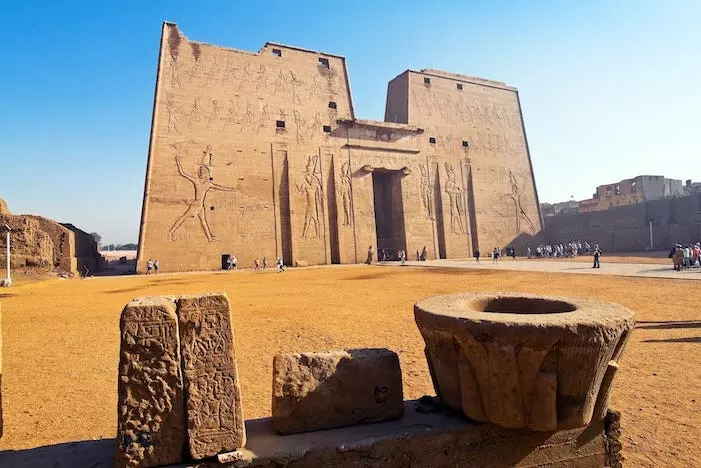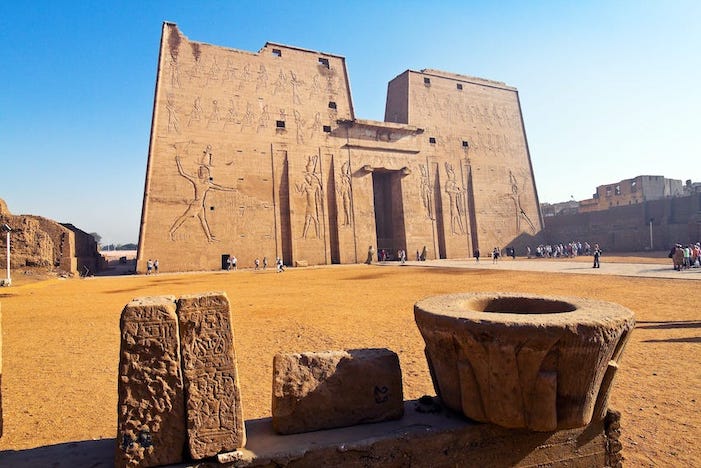 Edfu Temple
Also known as the Temple of Horus, this is well and truly another amazing treasure that features in so many of our Egypt tours packages from USA. After the temple was abandoned, it eventually became buried under the sand and it remained that way for more than 2,000 years. Thanks to this, it is today the best-preserved ancient cult temple ever discovered in Egypt.
Kom Ombo Temple
Kom Ombo Temple is essentially an ancient twin-temple complex, and the only one of its kind ever discovered. One half of the temple is a mirror image of the other half. The site was dedicated to two gods: Sobek the crocodile god and Horus the falcon-headed god. Because of this, both halves had to be identical so as not to offend either of these gods.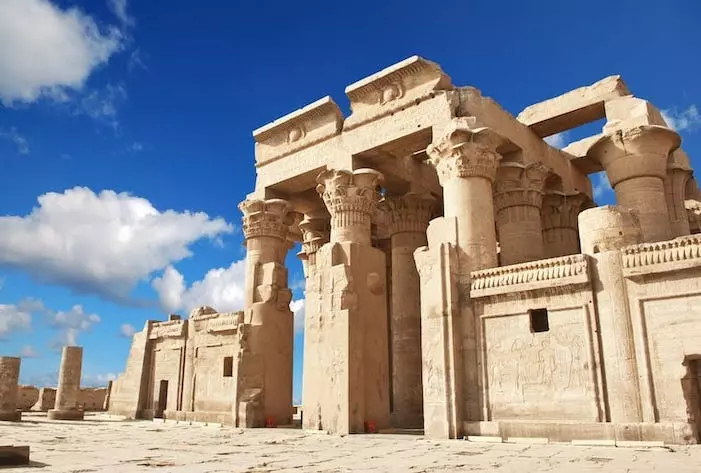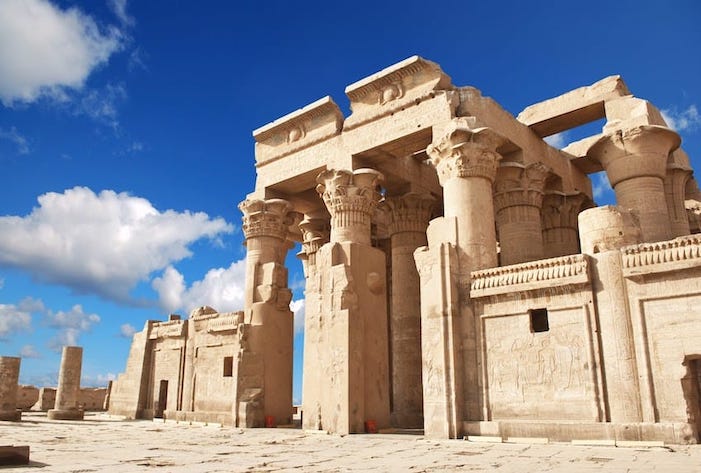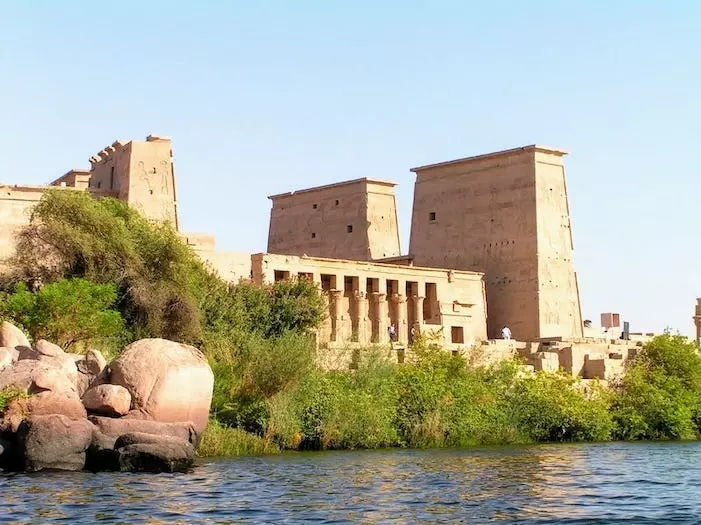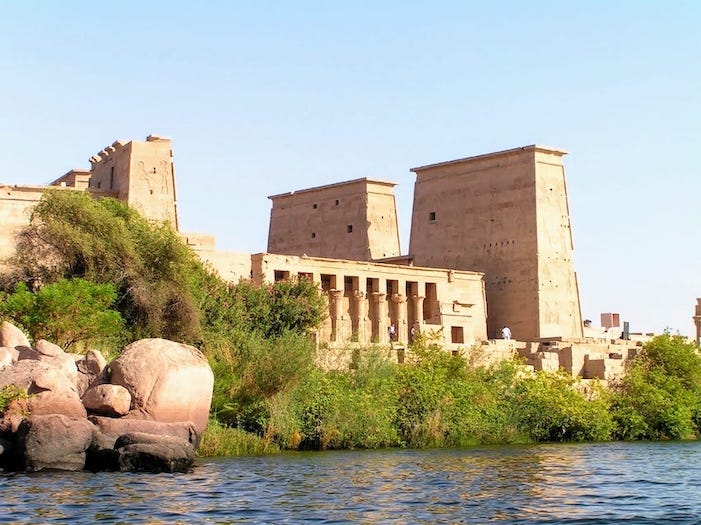 Philae Temple
Located near the city of Aswan, Philae Temple was one of the last true Egyptian temples to be built. In ancient times, the temple was dedicated to the goddesses Isis and Hathor. The temple was moved in entirety to its current location in order to save it from the flooding of Lake Nasser when the Aswan High Dam was completed. It is one of Egypt's most coveted ancient sites and is featured in nearly all Egypt tours packages from USA.
FAQ: Travel to Egypt from USA
Is it safe to travel to Egypt from USA?
Yes, it is very safe for tourists to travel to Egypt. However, you should avoid areas near the Libyan and Sudanese borders as well as the Sinai Peninsula other the southern part of Sinai.
Is there a travel ban from Egypt to USA?
As of the time of writing, there were no travel bans in place for those traveling on a US passport, although the Egyptian authorities may prevent you from visiting area which they feel are risky.
Are US citizens allowed to travel to Egypt?
Yes, American citizens and/or those traveling on an American passport are welcome to visit Egypt as long as they have a valid passport and an entry visa which can be obtained on arrival in Egypt. 
Is it safe to travel to Egypt as a woman?
Yes, Egypt is a safe country for a woman to visit, but as is the case in many countries around the world women, and especially those traveling alone, should avoid very quiet/deserted areas.
Is it safe for gay couples to travel to Egypt?
Homosexuality is not illegal in Egypt, but authorities have been known to target members of the LGBT community who they then charge with other offences. We strongly recommend discretion.
What vaccines are required to travel to Egypt?
At the time of writing, only Covid-19 vaccines are required for visiting Egypt. However, if you have recently visited a country where Yellow Fever is prevalent, you will need proof of immunization.
Does Egypt have travel restrictions?
You need to show proof of being fully vaccinated against Covid-19 at least 14 days prior to travel or need to show proof of a negative test taken no more than 72 hours prior to arrival in Egypt.
Travel insurance to Egypt from USA?
Egypt does not require you to have travel insurance. Nonetheless, it is always best to have travel insurance when you are traveling. Look for insurance that also cover emergency medical evacuations.
Travel requirements to Egypt from USA?
You will need a valid passport and a valid visa to enter Egypt. You will also need proof of Covid-19 immunization or a negative test result obtained no longer than 72 prior to your arrival.
Do I need a visa to visit Egypt from USA?
Yes, everyone needs to have a valid visa in order to enter Egypt. However, you can Egypt's Sinai Peninsular without a visa for up to 14 days but travel to other parts of the country is restricted.
How to get a visa for Egypt from USA?
US passport holders can get a visa from their nearest Egyptian embassy or consular office. They can also get a visa on arrival at the airport in Cairo, or by applying online via the Egypt E-Visa portal.
How much is a trip to Egypt from USA?
Good quality Egypt tours packages from USA start at around $1,000 per person. These should include 4 or 5 star hotel accommodation, professional guides and private transport.
How much is a flight from USA to Egypt?
The cost of flights from USA to Egypt vary quite significantly based a on number of different factors. We recommend that you plan on spending from $280 to $650 for a return flight.
Cheapest way to travel to Egypt from USA?
There are many websites that can help you to find the cheapest available flight to Egypt. The cheapest way to travel in Egypt would be to use public transport and budget accommodation such as hostels.
Best way to travel to Egypt from USA?
Direct flights are the best way to get from the US to Egypt. The best way to explore and enjoy Egypt is by way of quality Egypt tours packages from USA, especially those that include a Nile cruise.
Why do people travel to Egypt?
People travel to Egypt for many reasons. Some want to see the country's many ancient Egyptian monuments, while others visit for SCUBA diving and other recreational activities.
What do i need to travel to Egypt?
If traveling on a US passport, you only need a visa for entering the country. These can be obtained online or on arrival at any international port of arrival in Egypt. 
How far is Egypt from USA?
The average distance from the USA to Egypt is approximately 9351 kilometers (5811 miles). The average flight time from the USA to Cairo International Airport is about 14 hours.
How to travel to Egypt from USA?
While traveling to and through Egypt on you own can be fun, it can also be challenging. For many people, all inclusive trips to Egypt from USA are by far the best option.
How long is a flight to Egypt from USA?
The average flight time of a direct flight from the USA to Cairo International Airport is about 14 hours. Indirect flights can take significantly longer depending on the route taken.
If you have any questions which have not been addressed here, please visit our general FAQ or contact us and we will be happy to help.

Plan Your Egypt Trip
Our customer service personnel are on call 24/7 to offer assistance and to answer any questions you may have about visiting Egypt.